QND ANNOUNCES ILLINOIS STATE SCHOLARS
 State Congratulates 13 Quincy Notre Dame High School Students
Quincy, Ill. – Principal Mark McDowell is pleased to announce that 13 Quincy Notre Dame High School seniors have been recognized as 2018-19 Illinois State Scholars.
The Illinois Student Assistance Commission (ISAC), recognized more than 20,000 outstanding honorees from across the state as this year's State Scholars.
Illinois State Scholars represent approximately the top ten percent of high school seniors from 738 high schools across the state. Illinois State Scholars possess strong academic potential and are chosen based on a combination of exemplary ACT or SAT test scores and sixth semester class rank.
"Our State Scholars have achieved at a very high level.  They exemplify the standards we embrace for all our students at QND.  Congratulations to these students on being named to this select group," stated QND Principal Mark McDowell.
The following QND students were named 2018-19 Illinois State Scholars: Holly Brecht, James Broemmer, Jack Brown, William Cloninger, Elizabeth Eversman, Cy Kovachevich, Sophia Marcolla, Kristin Martin, Alaina McCulla, Madison McPherson, Hannah Peters, Emma Schlepphorst and Autumn Sturhahn.
"On behalf of ISAC, I want to congratulate all of this year's State Scholars for their exceptional work and wish them much success in their future endeavors," said Eric Zarnikow, ISAC executive director. "Thank you also to the teachers, parents, coaches and other mentors who support our students, inspire them, and help them navigate a path to college. You make a tremendous difference not only in our students' lives, but in improving economic prosperity and building a bright future for our state."
Originally formed as the Illinois State Scholarship Commission in 1957, the Illinois Student Assistance Commission provides students of all ages and backgrounds with resources and support to help obtain financial aid for higher education.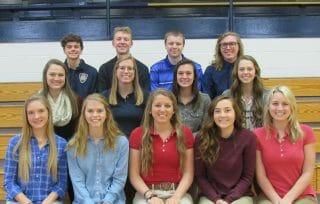 Bottom row (L to R): Autumn Sturhahn, Holly Brecht, Kristin Martin, Emma Schlepphorst, Sophia 

Marcolla
Middle row (L to R): Alaina McCulla, Madison McPherson, Hannah Peters, Elizabeth Eversman
Top row (L to R): Jack Brown, William Cloninger, Cy Kovachevich, James Broemmer