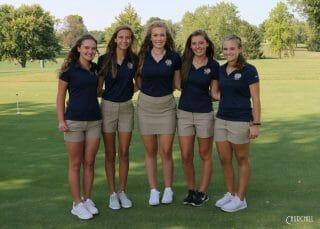 Head Coach – Jason Knuffman
Quincy Notre Dame has emerged as one of the top Class A girls golf programs in the state of Illinois. The Lady Raiders placed third in the Class A state tournament in 2012.
During the past decade, QND has produced four NCAA Division I golfers — Emily Powers (Kansas), Maggie Henke (Western Illinois), Rachel Powers (Illinois State) and Jamie Ehrhart (Northern Iowa). In recent history, the Raiders placed eighth in the 2011 state tournament, sixth in 2010, fifth in 2005 and sixth in 2004. Emily Powers won back-to-back individual state championships in 2004 and 2005. Rachel Powers tied for second in 2009. Haley Haugh advanced to the state tournament in 2015.
QND Girls Golf Schedule & Results
Date
Opponent
Location
Details
Results
Fri., Aug. 18
Macomb, Rock Island
Macomb
4:00 pm
Tues., Aug. 22
Quincy High School,
West Hancock
Westview
3:00 pm
Fri., Aug. 25
Brookhill Shootout
Rantoul
1:00 pm
Sat., Aug. 26
Rocket Invite
Lincoln Greens
11:00 am
Tues., Aug. 29
Normal U-High Tourney
Weibring GC
1:00 pm
Wed., Aug. 30
Rushville
Rushville
4:00 pm
Wed., Sept. 6
Macomb, Canton (IL)
Macomb
4:00 pm
Tues., Sept. 12
Quincy High School, Kirksville
Kirksville
4:00 pm
Sat., Sept. 16
Macomb Invitational
Macomb
8:00 am
Thurs., Sept. 21
Auburn, Porta, Rochester
Shambolee
4:00 pm
Mon., Sept. 25
West Central Conference Tournament
Camp Point
10:00 am
Directions to Westview Golf Course
From the south and the east
Take Interstate 172 to Highway 96 (Payson exit). At the top of the exit ramp, turn left.
Take Highway 96 about three miles and Westview Golf Course will be on the left.
From the north
Take Interstate 172 to Quincy's Broadway exit. Turn right on Broadway and go about 1 1/2 miles to 36th Street.
Turn left on 36th Street and go through three stop lights. The third stop light will be Harrison Street. About a half-mile past Harrison, the golf course will be on the right.