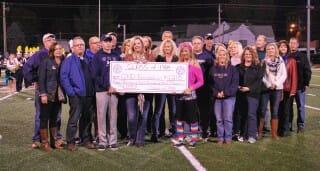 The Quincy Notre Dame Foundation recently endowed a scholarship to honor the life and legacy of QND Alumnus Joe Hoebing. As part of their 30th Class Reunion, members of the Class of 1984 have raised enough money to endow a scholarship in memory of Hoebing who succumbed to A.L.S. in 2013. He is survived by his wife, Amie, daughter, Olivia and son, Nathan.
Members of the Class of 1984 as well as Hoebing's family were in attendance at the check presentation on October 10, 2014 during half-time at the QND Homecoming football game. The class focused on giving back to their school and ensuring the Raider Pride tradition continues to current and future students. The scholarship in Hoebing's name will last in perpetuity and the dividends from the principle will be given to students for tuition assistance to attend QND.
"This was a terrific way to memorialize and honor a great person who meant so much to the Class of 1984," said Kurt Stuckman, QND Foundation Executive Director. The Quincy Notre Dame Foundation manages more than 100 scholarships to help support QND students. For more information about starting an endowed scholarship, please contact Kurt Stuckman at 217-224-2598.