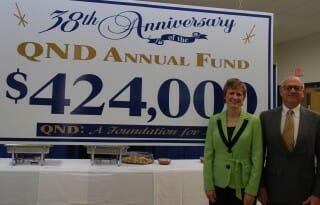 Jennifer Winking and Pat Hibbeler have been selected as chairpersons of the Quincy Notre Dame Foundation's 38th Annual Fund Drive with a goal of $424,000. The annual kick-off breakfast was held on January 16 at QND.
The Foundation has raised more than $11.5 million in the past 37 years and exceeded its 2014 goal of $418,000 by $38,000. The money raised helps keep tuition affordable by paying a portion of the school's operating costs and closing the gap between the cost to educate a student and tuition. The fund drive additionally supports QND's financial aid program. Tuition at QND for the 2014-2015 school year is $5,000 per student, but the actual cost to educate each student is $5,850. QND's 2014-15 enrollment is 412.
Winking, a 1984 graduate of QND, is an attorney and partner with the law firm of Scholz, Loos, Palmer, Siebers & Duesterhaus, LLP. She has been engaged in practice of law for 18 years. She is a member of the Church of St. Peter and coaches the St. Peter Scholastic Bowl team. Winking graduated summa cum laude with a double major from Quincy University, and received her juris doctorate from the University of Missouri-Columbia. She currently serves on the Board of Directors for the United Way and the West Central Child Care Connections and previously served on the Board for the Advocacy Network and Cornerstone. Jennifer and her husband, Tim Schieferdecker, have two sons, Wade who attends QND and Jack who attends St. Peter School.
"The QND Foundation helps to close the gap between the cost of education and the tuition charged at QND. It provides financial assistance to ensure that all who desire a Catholic education may be able to afford one. Its impact is community-wide in helping shape the leaders of tomorrow," stated Winking.
Hibbeler is a 1970 graduate of Christian Brothers High School and a regional sales manager for Norpac Food Inc. located in Salem, Ore. He graduated in 1974 with a bachelor's degree in Business and Economics from Culver Stockton College; in 1975 with a master's in Business Administration from Western Illinois University and in 2008 with a doctorate in Business Administration from St. Ambrose University. He is co-founder and a past chairman of the Patrick H. Hibbeler/QND Memorial Scholarship. He co-founded and chaired the Eastern Iowa and Western Illinois Region MDA Isles of Smiles Champaign. He is a past member of the QND Foundation board, past president of St. Ambrose Graduate Student Government, St. Moritz Association, and Spring Lake Country Club. Pat has two grown children, Jacquelyn of Phoenix, Ariz., and Joseph of Beloit, Wis. Both graduated from Our Lady of Lourdes Grade School and Assumption High School in the Quad Cities. His wife, Joanne, has three grown children: Christopher, Megan, and Sean. They attended St. Peter Grade School and QND. The Hibbelers are members of the Church of St. Peter.
"Quincy Notre Dame has a special place in my heart. My parents, Patricia and Patrick, attended Notre Dame High School in the '40s. My father was president of the board for Christian Brothers and Catholic Boys High School in the late '60s and early '70s. In 1970 he helped recruit the Servites from Chicago to take over the school after the Christian Brothers announced they were leaving at the end of the school year. As a community, we value a Catholic education and the belief that any child that wants a Catholic education will be provided for. The generosity of Quincy and the surrounding community is a testament to that belief," stated Hibbeler.
In addition to the leadership of Winking and Hibbeler, QND's Annual Fund Drive will be supported by 120 volunteers in the business phase of this year's campaign, 65 individuals in the parish phase, and more than 70 to assist with the drive's alumni phon-a-thon effort.
The Commercial Division leaders are Kirk Frageman '69, community volunteer; Jared Haugh '90, co-owner, Duker and Haugh Funeral Home and Jayne Pieper '98, promotions coordinator for Blessing Corporate Services.
Professional Division leaders are Jill Mason, retired community volunteer; Andrew Mays '02, associate attorney, Mays, Walden & Anastas, P.C. and Jake Scholz '00, attorney, Scholz & Scholz.
Financial Division leaders are Steve Green, accountant, Prince Agri Products and Jim Obert '78, vice president/lending officer, First Bankers Trust of Quincy.
Industrial Division leaders are Alan Musholt '82, president, Compressor Parts & Equipment of Quincy and Debbie Naught '74, architect, Klingner & Associates.
The first six weeks of QND's Annual Fund Drive, beginning Jan. 16, will focus on donations from the business community. QND Commitment Weekend follows on March 7-8, when members of Quincy's Catholic parishes are asked for donations. The Alumni Phon-a-thon will begin on May 4, during which QND graduates living outside of Quincy are asked to contribute funds to their alma mater.
QND's Annual Fund was established in 1977. It is overseen by the QND Foundation, which was founded in 1968. QND alumnus Kurt Stuckman '91 is the QND Foundation's executive director.