Quincy Notre Dame High School will hold their annual Open House on Sunday, February 25, 1:00 – 3:00 p.m., 1400 S. 11th Street, Quincy, Ill. Parents and students interested in QND are invited to attend. They will have the opportunity to meet QND students, parents and faculty, find out more about the 1:1 learning program, explore the school and discover the new things happening at QND.
"This Open House is a great opportunity for families to visit and learn more about what is offered including
academics, extracurricular activities, and more at QND. Everyone is welcome to come for all or part of the afternoon," states Mary Pat Vahlkamp, director of enrollment management. "The first hour will be informational presentations and discussions in the cafeteria for the parents while the students visit with current QND students in a classroom. The seco
nd hour is open for tours of the school. Teachers will be available in the classrooms. Families can explore on their own or be included in a QND student-guided tour."
The schedule for the QND Open House is as follows:
1:00 p.m. – Welcome and overview with Principal Mark McDowell and QND students (QND Cafeteria)
1:30 p.m.  – "Ways to Make QND a Reality" presentation with question and answer session about financial assistance, completing the FACTS form, Gene Grawe Fund and more (QND Cafeteria)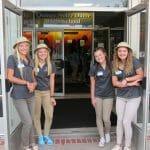 2:00 p.m. – 3:00 p.m. – Tour QND and meet teachers
Founded in 1867, Quincy Notre Dame High School is a comprehensive four-year high school enrolling approximately 400 students in grades nine through twelve. More than 30% of QND students receive financial assistance. Quincy Notre Dame, as a Catholic co-educational school, seeks to build a community of learners among its faculty, staff, students, and parents. QND fosters an environment of consideration and acceptance, while challenging its members to develop their potential through strong educational and extracurricular programs.
For more information, please contact Mary Pat Vahlkamp at 217-223-2479 ext. 326 or email mvahlkamp@quincynotredame.org.