The Quincy Notre Dame Foundation has announced that the 2020 QND Fund Drive raised $492,653 in gifts and pledges exceeding its goal by $48,153. The Fund Drive was led by co-chairpersons Monica Hinkamper '82 and Bryan Stokes.
"Once again, I am humbled, especially during these times, by the generosity, sacrifice and passion from all of our donors.  They ensure the continued development, growth, and success of QND and its students," states Hinkamper.  "I am forever grateful for another productive and prosperous Fund Drive.  Thank you again to our many dedicated donors, volunteers and the QND Foundation staff."
"The generosity of our donors is simply amazing.  During the most difficult of times, our community stood with QND and ensured that we exceeded our goal," said Stokes.  "Thank you for investing in Catholic education."
The QND Fund Drive keeps tuition affordable by paying a portion of the school's operating expenses to close the gap between the cost to educate and student tuition. The campaign also provides financial assistance to students. Over the past 43 years, the QND Fund Drive has raised more than $16.5 million.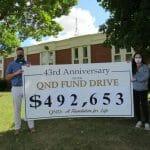 Kurt Stuckman, executive director of the QND Foundation, noted the importance of the success of the Fund Drive. "Considering what our country, our community and our school has experienced this year, a successful Fund Drive was extremely important for us. The Fund Drive remains the lifeline of QND. To exceed our goal during a time like this is a true testament to our supporters who value a faith-based education.  We are grateful for the community and alumni support," said Stuckman.
Division chairs for the 2020 Fund Drive, which kicked off in January, were as follows: Patrick Cook '02, Brady Frericks '07, Steve Green, Jill Kelly, Will Meckes '06, Morgan Miles '08, Debbie Naught '74, Jim Obert '78, Jayne Pieper '98, Jacob Scholz '00 and Andy Tappe '00.
Founded in 1867, Quincy Notre Dame High School is a comprehensive four-year high school enrolling nearly 375 students in grades nine through twelve. More than 35% of QND students receive financial assistance. Quincy Notre Dame, as a Catholic co-educational school, seeks to build a community of learners among its faculty, staff, students, and parents. QND fosters an environment of consideration and acceptance, while challenging its members to develop their potential through strong educational and extracurricular programs.
The QND Class of 2020 has been offered more than $3 million in academic, athletic and performing arts scholarships.