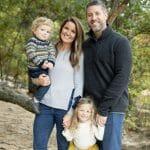 Education received after graduating from QND
I attended Saint Ambrose University in Davenport, IA, where I received my Bachelor of Science in Industrial Engineering.  I then attended Southern Illinois University School of Medicine and received my M.D., graduating in 2013.  I then completed a 5-year residency program in General Surgery at Grand Rapids Medical Education Partners.
Current Career Information
I am a partner in a private practice surgical group in Grand Rapids, Michigan.  I serve two local hospitals as a general, trauma and transplant surgeon.  I see patients in our clinic for elective surgeries as well as patients who present to the hospital for emergent care.  I work with and teach residents from University of Michigan and Michigan State, as the two hospitals are affiliated with different residency programs.  My job entails diagnosing and treating a wide variety of surgical problems, with a focus on the abdomen, dialysis vascular access, kidney transplants, and traumatic injuries.  I feel very lucky to be a part of a fantastic group of surgeons who all work well together.  I'm blessed to have a fulfilling career in knowing that I'm helping people resolve health issues.  My partners and I are the only group in West Michigan that perform kidney transplants, and it is a pleasure serving the patients here in need of that care.
Personal Life
I live in a suburb of Grand Rapids, Michigan with my wife, Megan, and our children Genevieve (Evie) and John.
How has QND impacted your life?
QND has impacted my life on multiple levels.  Most importantly, as a student there, I began my relationship with my wife, Megan.  I fostered friendships with my best friends, with whom I am still very close.  The teachers and staff created a family-like atmosphere in which my Catholic faith could mature and my education could flourish.  I loved my time at QND and hope that my own children will be granted an opportunity to be a part of a community of such quality as QND.