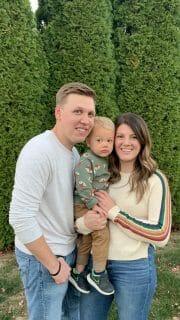 Education received after graduating from QND.
Following my time at QND, I attended Westminster College in Fulton, Missouri. There, I received my BA in Biochemistry in May of 2014. I then attended the University of Missouri-Kansas City where I received my DDS in May of 2018.
Current job information.
I currently am an associate general dentist at a private practice in Quincy named Busbey, Williams, and Riggs. I currently practice all aspects of general dentistry encompassing crown and bridge, implants, operative dentistry, root canal therapy, extractions, and removable prosthodontics. I have been with this practice for a little over a year now, and I have loved every minute of it. It's truly been a pleasure being able to provide for the community that helped raise me into the person I am today.
 Other jobs/careers prior current position.
Prior to dental school, I worked at a number of different summer jobs ranging from Subway, to CellTech, to Rinella Distributing Company. I then began my focus in dentistry and spent my summer and winter breaks working at my father's practice, Quincy Oral and Maxillofacial Surgery, to obtain experience prior to dental school. During dental school, I spent one summer working at Root Dental Laboratory, where I worked specifically in the crown and bridge department. Following dental school, I spent one year working at the Adams County Health Department. I really enjoyed getting experience working as a public health provider, and made some lifelong friends along the way.
Personal Life
My wife (Rebecca) and I live in Quincy and we have a one year old, Cooper, who is our pride and joy.
How has QND has impacted your life?
I owe a tremendous amount of gratitude to QND. The school itself helped me grow academically and personally to the point where I was fully prepared to succeed from day one in my future education. QND has the unique ability to make each student feel as if they are part of a large family, and that environment allows students to grow to become the best versions of themselves. I will forever be thankful for the lifelong friendships QND provided to me.
-November 2020