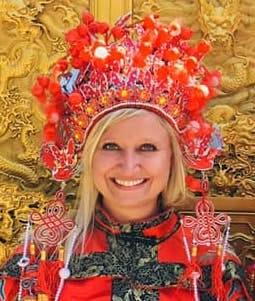 Education received after graduating from QND.
Bachelors Degree in Special Education at Southern University of Illinois Edwardsville 2011
 Current job information.
I am currently in my fourth year of teaching Special Education in Kuala Lumpur, Malaysia.  I work at an International School that follows a British Curriculum for expat students.  The students needs I work with range from Learning, Behavioral and Physical Disabilities some including Autism, Dyslexia, Processing Disorders, ADHD, Fine and Gross Motor needs as well.  Our school follows an inclusion model that allows me to co-teach with the general education teachers and pull students out for more intensive interventions.  Some of the interventions I implement include Social Thinking Skills through "friendship lunches", Sensory Integration and Fine/Gross Motor skill work in our sensory room, reading, writing and math intervention as self advocacy skills.
We are currently teaching live online using the zoom platform while we are in our second phase of lockdown in Malaysia.  Luckily, our families have been very supportive and have the means to provide technology and child care during these times.  However, teaching online has many challenges, especially for my children with special needs.  Many of them are finding it hard to stay focused, organized and manage their time and schedules.  They are also struggling to keep motivated with the lack of human engagement and social opportunities.  We are all hoping for things to improve soon!
Teaching in an international school has opened my eyes to other cultures as I've made friends, some I consider to be family, from all around the world.  I feel extremely lucky to have met the people I have and have the opportunities to travel around Asia learning about different cultures & history, seeing beautiful landscapes and tasting exciting new foods and flavors!
Malaysia is the melting pot of cultures in Asia.  The population is made up mostly of Malay, Chinese and Indian people. I live in the capital city of Kuala Lumpur which is very modern and exciting. It's best known for his beautiful twin Petronas Towers. The most common language spoken is English but most Malaysians speak at least two or up to five different languages, some including Mandarin, Bahasa, Tamil, Cantonese, Hokkien.  It's a tropical climate that feels like summer all year long. Although Malaysia is an Islamic country, many different religions are practiced and respected.
Other jobs/careers prior current position.
I taught at Adams Elementary School for three years as a K-3rd grade Cross Categorical Special Education Teacher and then spent three years teaching special education at a British International School in Beijing, China.
Personal Life
I currently live Kuala Lumpur, Malaysia with my cat Bae. My parents are Kent and Selena Stegeman, of Quincy, and my brother Peyton '19 is attending Illinois College in Jacksonville.
How has QND has impacted your life?
Quincy Notre Dame is where I met some of my lifelong friends and learned about persistence and commitment.  In particular, being a part of the Pom Squad I learned so many important skills that have made me a dedicated, creative and collaborative teacher.
November 2020