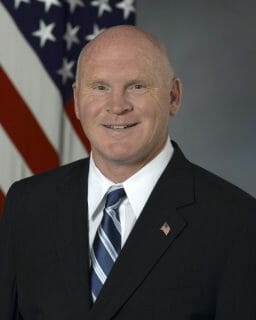 Education received after graduating from QND.
John Wood C.C. 1978
Quincy University, B.A. 1980
U.S. Naval War College, Newport, RI M.A. 1992
In addition, I've attended various courses at universities and through the military during my Navy career and continue to seek out learning opportunities through courses and seminars.
Current job information.
I am currently director of Wensing Enterprises LLC doing business development, strategic planning and communications for a variety of companies.   From 2012-2014 I advised the Pentagon and launched the Congressionally mandated National Vietnam War Commemoration building national partnerships and arranging a ceremony at the Vietnam Veterans Memorial on the National Mall with the White House, other national leaders and thousands of attendees.
I'm a member of the Speakers Committee at the National Press Club in Washington, DC, and have hosted many national leaders from a wide range of areas from filmmaker Ken Burns, tennis legends Billie Jean King and Chris Evert, the Commissioners of the NHL, MLB and WNBA, to numerous Cabinet officials and Pentagon leaders like the Chairman of the Joint Chiefs of Staff.
I serve as Chair of FCA Americas, a branch of FCA, Finland's largest international charity which does aid work throughout Africa, Asia and in  the area of inter-faith dialogue and peacemaking.
I also serve on the Board of Advisors of the USS CONSTITUTION Museum in Boston, the Quincy University National Alumni Board and  have been actively involved with the Navy League of the United States, the NYC Veterans Day Parade, Washington, DC Memorial Day Parade, and the United States Tennis Association serving on several committees and involved in the annual Lieutenant Joe Hunt Military Appreciation Day, during the US Open tennis championships.
Immediately after leaving the Pentagon I worked at the USO supporting America's troops and their families, where I played a leadership role in starting The Warrior Games which Prince Harry attended, inspiring him to launch The Invictus Games.  I also was part of the founding of the Joining Forces program that was adopted by the White House in an effort to reach out to help military veterans reintegrate into their local communities.  I also helped actor Gary Sinise launch his foundation in 2011, and I continue to help my fellow Veterans through several non-profits.
Other jobs/careers prior current position.
While at QND I worked cutting grass in my neighborhood, as a busboy and dishwasher at Carson Pirie Scott & Co. in downtown Quincy.  I later worked at the Quincy Racquet Club stringing tennis rackets, teaching youth lessons and whatever the club needed from landscaping, to cleaning, to retail.
My father, Bert Wensing, died in January 1977 at age 50, and I joined the US Navy while in my senior year (1979) at Quincy College (now QU) and reported to Officer Candidate School two weeks after graduating in 1980.
I served 26 years in the United States Navy (1980-2006) and then served three years (2006-2009) as an appointee on the staff of the Deputy Secretary of Defense at the Pentagon.
During my Navy career I was stationed and deployed around the world from my first tour in San Diego in the Weapons, Operations and Engineering departments of USS TRIPOLI (LPH 10), to the UNITAS deployment to South America aboard USS ARTHUR W. RADFORD (DD 963), West Africa Training Cruise (WATC), Operation Desert Shield & Desert Storm and service on the staff of the Secretary of the Navy (2001-2006) which included many visits to Afghanistan and Iraq in support of the Global War on Terror.
During my Navy career I was called on to help support Hollywood on several films including, EXECUTIVE DECISION, WINDTALKERS, JURASSIC PARK III and PEARL HARBOR.   On the set of PEARL HARBOR, I arranged a memorial wreath laying for the cast and crew at the USS ARIZONA Memorial and a reception for Pearl Harbor Survivors, military families and Sailors who would be part of or support the film.  The next day the film's director, Michael Bay, asked if I would be available to be in the film.  With Navy's approval, I was able to participate as both the referee in the boxing match scene and in a battle scene with Cuba Gooding, Jr.
Personal Life
I currently live in Alexandria, Virginia with my wife Hartley Hobson Wensing, daughter Grace, and our lab, Bay.  Hartley is the great x4 granddaughter of General Alexander Macomb, a War of 1812 US Army hero and namesake of Macomb, Illinois.  I also have home in Winter Park, Florida and we have been blessed to travel though Europe, Canada and Mexico over the last few years before COVID 19 struck.
My brother, Tim Wensing, QND '78, lives in Coral Gables, Florida where he is President of CMC Construction having built several of the tallest high rises in Miami.  Tim is also a professor at Florida International University.
How has QND has impacted your life?
For many, if not most, high school years are a defining time in life, and I was very blessed to attend Quincy Notre Dame (QCB 73-75).  When I was a student at St. Francis, I listened to radio broadcasts of CBHS basketball games and attended football games.  I also met QCB/QND high school students when I was in 6th grade and part of a local production of the musical Oliver.  The QCB/QND students, like Jim Stegeman, were so cool, kind and encouraging.  During 8th grade I met Mark Schuering, a CBHS '71 grad, basketball/tennis star, who was attending Quincy College along with other former QCB/QND grads. Those encounters helped convinced me that QND was the place to be.
I will never forget a sign that was in the locker room that read "What I Had I Gave, What I Kept Is Gone Forever".
I have long wondered if that sign is still above the locker room door, but that simple phrase had a profound influence.  During my life, my Navy career and in all I do I attempt to leave each of my assignments and tasks better than I found it.  My life lessons learned at QND, reinforced during my Navy career, taught me to be forthright, honest and direct which every person and in every circumstance, and to treat every person with dignity and respect.
Many people say that the fundamental elements of character are established during the high school age years.  The core values, faith and culture of service in the pursuit of excellence at Quincy Notre Dame have been a strong and positive influence that have served me well.  Teachers like Ray Heilmann, John Geddys, Mike Wavering, Peggy Finigan, coaches Al Kneppler, John Rodemann, Ron Peters, staff, Priests, Brothers and Nuns, and my fellow students/teammates made the QND experience a life shaping one filled with memories that I will always carry with me.
Additionally:
I am writing these notes on Veterans Day 2020, as the COVID pandemic challenges the world and ballots continue to be counted and recounted following the recent election.   I know that many QND graduates who came before and after me have also served in our military or in other ways to make our country and community a better place for all.  I salute you. When I think of those at QND who influenced me, and I encourage all who are part of the QND family to work hard every day to make their families, community and country a better place and lead by example to serve their fellow citizens.  You never know who is watching and the lives you are impacting.
On 9/11 I was with the Secretary of the Navy and shortly after that terrible day I discussed the naming of three navy warships to honor those who suffered and served on 9/11.
The Secretary named USS NEW YORK, USS ARLINGTON and USS SOMERSET to and I was able to get 30 tons of steel from the fallen World Trade Center towers that was melted down to form the bow of USS NEW YORK.
I was also honored to get to know President George H.W. Bush and Barbara Bush.  President Bush and I enjoyed wearing fun socks.  I gave him several pairs of socks over the years and in 2016 at a dinner at the Bush Presidential Library at Texas A&M I gave him a pair of socks depicting the Navy's Blue Angels in flight.   He wore the pair the next day for a ceremony commemorating the 75th anniversary of the 1941 attack on Pearl Harbor.
Two years later (2018), shortly after President Bush (41) passed away his chief of staff, Jean Becker, called me to let me know that President Bush had chosen the Blue Angels socks to be worn when he was laid to rest.   41 had a plaque made that read CAVU which is an acronym for Ceiling And Visibility Unlimited, an aviator term for perfect flying weather.  That was one of his guiding principles and the CAVU theme continues to inspire his family and friends.
November 2020