Education received after graduating from QND.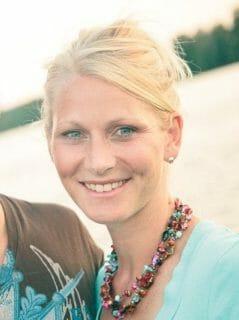 BA Psychology–Washington University in St. Louis (St. Louis, MO), 1999
MS Kinesiology & Recreation, emphasis in Athletic Training–Illinois State University (Normal, IL), 2002
Current job information.
Owner/Athletic Trainer/Strength & Conditioning Coach–Khazen AthletiKare, LLC (St. Louis, MO), 2005-present
provide sideline athletic training services for teams on a single-event or seasonal basis
design & instruct injury prevention & performance enhancement programs for functional, recreational & competitive athletes of all kinds
conduct educational programs for clubs, schools and community groups in the form of higher education, seminars, workshops & camps/clinics
I love the freedom to work for myself for the last 15 years developing my small practice as it affords me a great deal of flexibility to also be a wife & mother (of 5) and coach at the collegiate & youth level, especially for my own kids.  As a child, I always saw myself in either education or athletics and then realized in 8th grade after an injury, that I wanted a future in sports medicine.  So, I pursued that path, and never looked back.  It has a been a perfect fit for me, as it's just the best combination of sports, medicine & education, working with people to help them achieve their goals whatever those might be.
Assistant Women's Soccer Coach–Webster University (St. Louis, MO), 2014-present
design practice plans for player development through technical training and strength & conditioning programs
coach players with an emphasis on the attackers in training sessions and home & away competition at the NCAA DIII level
assist with other admin needs for the program
Technical Director–AFA Fillies Soccer Club (St. Louis, MO), 2020-present
I have been fortunate to have had great support in my athletic career as a youth, high school, collegiate & semi-professional player, that I've always wanted to guide other athletes through their experiences in sport.  Sport can be such an intensely positive thing for a young person…it can be a source of confidence, leadership skills, time management, and physical health…through proper training of both the body & psyche.  I'm blessed to be able to use my education and experience (both difficult & rewarding) to help guide the athletes in my care.
Other jobs/careers prior current position.
Soccer Camp Counselor/Coach–many…Washington University, Joe Clark Tri-State, Aydin Gonulsen, Mark Thomas (all over IL & St. Louis, MO), 1995-1999
Athletic Trainer & Clinical Aide–PRORehab (St. Louis, MO) 1999-2000
Graduate Assistant Athletic Trainer–Illinois Wesleyan University (Bloomington, IL), 2000-2001
Athletic Trainer & Strength & Conditioning Coach–Metro-East Center for Conditioning And Health (MECCAH) (Belleville, IL), 2002-2004
Assistant Women's Soccer Coach–Washington University (St. Louis, MO), 2002-2008
Strength & Conditioning Coach–8300exercise (St. Louis, MO) 2004-2005
Athletic Trainer, Strength & Conditioning Coach for Men & Women's Soccer–Webster University (St. Louis, MO), 2009-2014
Adjunct Professor in the Master's in Athletic Training Program–Saint Louis University (St. Louis, MO), 2010-2014
Adjunct Professor in Health & Life Sciences (2010-2011) and Biological Sciences (2013)–Webster University (St. Louis, MO)
Personal Life
I currently live in St. Louis with husband Pete (18 years) and children: Emary (13), Gabriel (12), Christian (9), Tate (3) & Quinn (3).
How has QND has impacted your life?
I loved my time at QND so much, I'm rallying for a campus in St. Louis for my kids.  Being a Raider was certainly in my blood as a member of the Thomas family, and I was proud to continue the tradition.  I continued my faith journey as a Catholic woman, was challenged in the curriculum for my future educational & career endeavors, and made lifelong friends in the many sports and activities I was a part of.  I love seeing the continued progress of my alma mater with now my friend and classmate, Mark McDowell at the helm…he and his staff continue to make us all proud!
November 2020