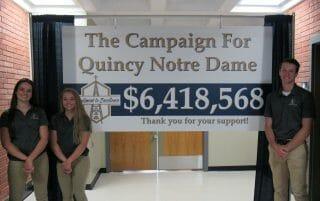 Quincy Notre Dame Exceeds $6 Million Capital Campaign Goal
August 15, 2018
Quincy, Ill. – At a blessing and dedication ceremony this morning, the Quincy Notre Dame Foundation announced that The Campaign For Quincy Notre Dame exceeded its goal of $6 million, raising a total of $6,418,568.  The expansion and renovation, which broke ground in June of 2017, is the largest fundraising campaign in the history of the school.
The campaign expansion plan included the construction and completion of the East Wing housing two new science labs to serve chemistry, physics and biology, an expanded physical science classroom, two additional classrooms and a new principal's office and two guidance counselor offices. Additionally, completed campus revitalization projects included renovating public restrooms and electrical power supply, upgrading HVAC systems and constructing an athletic concourse.
"We were very strategic in our approach and, in the end, met all of our goals on the fundraising and construction side. This is quite a transformational moment for Quincy Notre Dame," said Kurt Stuckman, QND Foundation executive director. "The planning process from start to finish, was right at five years. We had many tremendous volunteers that believed in this campaign and stepped up to make it happen."
The expansion campaign received a total of 417 gifts, of those, 263 were from QND alumni. The single largest gift to the campaign was $500,000. The average silent phase gift was $27,000. The average public phase gift was $1,000.
"The new classrooms and expanded science labs will provide an updated environment in which we are able to learn," said Katelyn Nelson, QND senior. "This not only helps current QND students but paves the way for future students to continue to receive a tremendous education from QND."
"The expansion on the east side of the building will allow our students and teachers to work in a space that is modern and comfortable," stated Mark McDowell, QND principal. "The new science labs will ensure that our students have access to equipment and technology that they need for their coursework.  The expanded labs will allow students to conduct experiments with ample room.  In addition, generous storage areas and cabinetry make it possible to safely store chemicals and other important materials.  Our new larger classrooms give students and teachers additional space appropriate for the high school learning environment.  Also, in bringing our counselor's offices into the new wing, we have made it easier for students and parents to access our guidance department," said McDowell.
Founded in 1867 on Catholic values, Quincy Notre Dame educates lifelong learners for lives of service. QND welcomes students of all faiths and fosters an environment of consideration and acceptance, while challenging its students to develop their potential through strong educational and extracurricular programs. QND offers challenging academic curriculum, educational trips abroad to Germany and to Spain, 1:1 learning with iPads, many opportunities for leadership, strong emphasis on moral character and service to others. Financial assistance is available. With 100% graduating and continuing their education, the QND Class of 2018 was offered more than $3.5 million in academic, athletic and performing arts scholarships.