The Quincy Catholic Elementary Schools and Quincy Notre Dame Foundations are kicking off the 10th Annual "Everybody Wins" Mega Raffle on Wednesday, April 7, 2021. To date, the Mega Raffle has provided over $1.8 million in tuition assistance and technology upgrades to the five Quincy Catholic schools.
There will be 42 prizes awarded throughout the raffle period. The grand prize is $100,000, second prize is $20,000 and the third-place prize is $10,000.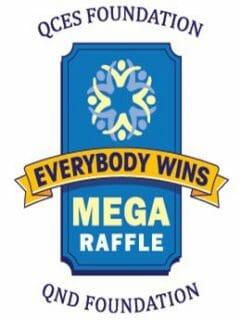 These top prizes, along with 32 others, will be announced at the "Mega Drawing" held June 12, 2021, at the St. Francis Picnic. Winners need not be present to win.
To celebrate the 10th anniversary the Mega Raffle is bigger than ever! The raffle will award the largest Super-Early Bird prize to date of $25,000…the second largest prize in the entire raffle!! All ticket sellers and purchasers are eligible for this Super Early-Bird prize. To qualify, tickets must be turned into the QND Foundation by 4:00 p.m., on Friday, April 30. This drawing will take place live on Y-101 on Friday, May 14.
There will also be six Early Bird Drawings. These "Fantastic Friday" drawings will award $500 to two winners each on May, 21, 28 and June 4. All drawings will be broadcast live on Y101 at 7:40 a.m.
Tickets will be sold by the Quincy Catholic Elementary Schools and Quincy Notre Dame families, the Gene Grawe Fund office in the lobby of St. Peter Church and online at QuincyMegaRaffle.org.
There will be 4,000 tickets sold on a first come first serve basis. The cost is $100 per ticket.  With each $100 ticket purchase, $10 will be donated back to one or more of the following schools: Blessed Sacrament, St. Dominic, St. Francis, St. Peter or Quincy Notre Dame, at the discretion of the ticket buyer.
Click here for more information and to purchase your tickets!