"At QND, I was introduced to my profession while sitting in Mr. Greving's accounting class.  My senior year, we lost Mr. Greving suddenly and tragically.  That night, a number of students gathered at Herr Bloss's house.  There were tears and a lot of questions as to why and how this could happen.  At his funeral a few days later, there were tears of laughter and sadness as we remembered him – his walk, his corny clues and jokes, and his sincere dedication to teaching young people.
As I reflect on QND, it was not just the place where the seeds of my career were planted in Bruce Greving's classroom, but it was the place where my faith was nurtured by faculty throughout the school, and not just during a religion class.  It was a place where I learned about loving another for who they are, not for who society or who I think they should be. At QND, the hard work and dedication I'd been taught by my parents was put into practice in the classroom and in sports.  It is a place that supported me when I failed, and taught me to turn that failure into a success.  It is a place where I still find those that I can rely upon, whether they be current or former faculty, or alumni.  As time has passed, faculty that I learned from then, became mentors, and are now among my closest friends.
If I were to tie a scripture verse to QND, it would be 1 Corinthians 13:13, "So faith, hope, love remain, these three; but the greatest of these is love."
Faith – Is is certainly a place that nurtured and encouraged my faith, both in and out of the classroom.
Hope – even in the times of sorrow or challenges, the many words of encouragement from alums and faculty remind me of the joy, happiness, and even triumph from a focus on doing what is right and persevering in a life worth living
Love – I've heard the term "Raider Pride" used in many different ways for as long as I can remember. In my own life it has simply meant affirming the human dignity of others through  kindness and consideration, and lifting up our lives to God.  That is the love that I have felt from the QND community, and hopefully the love I share with others."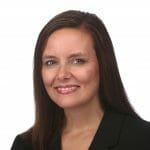 "Being a student at QND helped form my sense of community and a belief that it's normal to have high expectations. This established a framework that I have built on throughout my professional career. From my first year in accounting with Mr. Grev
ing through college and in my career as a CPA. Part of the reason we moved back to Quincy from Kansas City was fueled by the fact that our girls would be driven by the same sense of community offered at QND."
~ Dana (Heckenkamp) Dreier '89
What is the impact of an education at Quincy Notre Dame?
Quality education offering solid core curriculum and several college accredited courses with college professors teaching on QND's campus.
Holistic learning experience: Spiritual Growth focusing on Christian ideals, attitudes, values, commitment and service; Dedicated learning environment focusing on academic excellence providing the skills and nurture to succeed.
Promotion of a safe and family environment with the faculty and staff caring about the students and students caring about each other.
QND students with diverse backgrounds sharing their life experiences with one another.
Raider Pride providing strong character formation.