The Quincy Notre Dame Foundation has announced that the 2021 QND Fund Drive raised $571,623 in gifts and pledges exceeding its goal by more than $124,000. This is the largest amount raised through the QND Fund Drive since its inception in 1977.
Kurt Stuckman, executive director of the QND Foundation, noted the historical moment for the 2021 Fund Drive. "We worked very hard this year to ensure no stone was left unturned. We networked with many businesses, individuals, families and alumni throughout the country to support the importance of Catholic secondary education here in Quincy," said Stuckman.
Highlights of the 2021 QND Fund Drive:
• The Foundation received more than $61,000 in new gifts and collected over $70,000 from donors who increased their gift from the previous year.
• The 2021 Fund Drive saw 66% of all gifts come from alumni.
• The average gift to the 2021 Fund Drive was $439.
• Our success comes from a donor retention rate of 92% year after year.
"This moment has proven that QND is alive and well in our community and will continue to be for generations to come," states Stuckman. "The success is great, but more importantly, we are very humbled that so many supporters put their faith in us to invest in our school wisely which enables QND to remain the debt free school that it is."
The QND Fund Drive keeps tuition affordable by paying a portion of the school's operating expenses to close the gap between the cost to educate and student tuition. The campaign also provides financial assistance to students. Over the past 44 years, the QND Fund Drive has raised more than $17 million. The Fund Drive was led by co-chairpersons Bryan Stokes and Lydia Miller '04.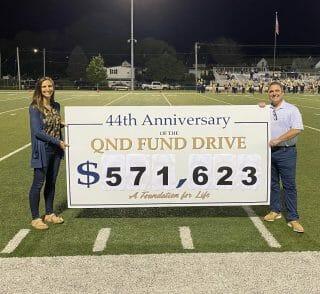 "Year after year, I am amazed and humbled by the generosity of the QND family. Our alumni, supporters, and donors continue to invest in QND students and ensure a future of growth, development, and success that is rooted in faith," states Miller. "I am thankful for another successful Fund Drive to continue the mission of Quincy Notre Dame. Thank you to all of our donors, volunteers, and QND Foundation staff that helped make this possible."
"I am grateful to the community leaders, businesses, and alumni throughout the country that contributed to the success of this campaign," said Stokes. "We have many dedicated volunteers who step up and work hard to make this fundraiser what it is. I would like to thank them for all of the hard work they put forth."
Division chairs for the 2021 Fund Drive, which kicked off in January, were as follows: Patrick Cook '02, LB Cornwell '15, Brady Frericks '07, Steve Green, Jill Kelly, Will Meckes '06, Morgan Miles '08, Trenton Murfin '12, Jim Obert '78, Jayne Pieper '98, Jacob Scholz '00, Andy Tappe '00 and Curt Wavering '97.
Founded in 1867, Quincy Notre Dame High School is a comprehensive four-year high school enrolling nearly 400 students in grades nine through twelve. More than 33% of QND students receive financial assistance for the 2021-22 school year. The QND Class of 2021 has been offered more than $5.4 million in academic, athletic and performing arts scholarships.