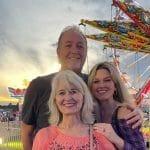 Education received after graduating from QND
After graduating from QND in 1977, I received a Bachelor of Science Degree from Culver Stockton College in Administration of Justice in 1981. I also received a Master of Science Degree from Troy State University in Counseling and Human Development in 1993.
Current Career Information
I am currently Director of the Career Development Program at Waterfront Mission in Pensacola, Florida (13 years). My primary job is to oversee men that are attempting to rebuild their lives after completing an intensive Recovery Program. I enjoy seeing clients come to know Jesus and watching their lives begin to transform into the men that God intends them to be.
Previous Careers
Previous jobs included working for CNN Headline News Radio (8 years), Lakeview Mental Health Center (10 years) and as a Probation Officer (3 years).
Personal Life
I live in Pensacola, Florida, with my wife is Bobette (Lubbert) Shoop and we have one daughter, Jessica Shoop.
How has QND Impacted your Life?
Attending QND would not have occurred if not for the coaching and encouragement of Mr. Gary Hess (Coach). He was very instrumental with his coaching and guidance during my elementary years at St. Boniface Grade School. I was going to attend QHS; however, he persisted in me going to QND for a sound education and to play basketball. He was like a father to me and he is truly missed since his passing in recent months.
Once I arrived at QND, Coach Phillip Conover took over where Coach Hess left off. Coach Conover was an excellent role model for me, which kept me on the right path. He instilled in me that values and character matter in life. Playing basketball at QND was the most exciting and rewarding time in my life and it led to receiving a full scholarship to play in college.  It opened up opportunities that I would have otherwise never experienced, such as being invited to try out with the Los Angeles Lakers and to play professional basketball in Costa Rica. I did not pursue either of these opportunities, however is was an honor to be offered.
QND provided an excellent education, which instilled character, morals, and a Christian perspective. I will forever cherish my time at QND and I carry fond memories of teachers, coaches and friends that I met along the way. May God richly bless all of the faculty and staff at QND.