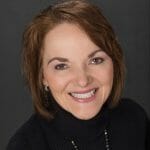 Education received after graduating from QND
 BBA (Accounting & International Business), Saint Mary's College, Notre Dame, Indiana, 1984
MBA, University of Illinois, Urbana-Champaign, 1986
Current Career Information
 I am currently retired, but volunteer as a Board member and Grants Chair for Caring Women's Connection, a local philanthropic organization. We work with small local businesses to raise money and provide grants to charities that support needy women and children in Lake County IL, such as homeless shelters and programs for disabled children and domestic abuse victims.
My responsibilities include everything from organizing fundraisers to reviewing grant applications to sending thank-you's our donors. I really enjoy giving back to my local community, working with talented & kind-hearted colleagues, helping local small businesses and honing new skills, like fundraising and event planning. It keeps me busy and involved, and it's fun!
Previous Careers
I worked at Abbott Laboratories for 23 years and retired in 2017. My field was international market research, and I worked my way up to the Director level. It was fascinating work, helping develop new products by talking to health care providers and patients around the world about their needs and experiences. There was also lots of data analytics to appeal to my number-crunching side.
One benefit of working for such a large, diverse company is that I was able to change jobs several times over the years without ever leaving the company. I worked in the Pharmaceutical business (Humira, Biaxin) for 12 years, Nutrition business (Similac, Ensure) for 8 years and the Diagnostics business (BinaxNOW home Covid test) for 3 years. I never had one boring day in 23 years!
I was fortunate to be able to travel to more than 25 countries, where I saw beautiful sites and met the most fantastic people. Some of my favorite spots were London, Barcelona, and Shanghai – but I also loved Monte Carlo, Marrakesh, and Ho Chi Minh. My life continues to be enriched by having friends all over the world.
Personal Life
Reside in Hawthorn Woods, IL. I have lived in the NW suburbs of Chicago for 30+ years.
Married to Chicago native Carlos Lobo for 21 years.
My mom, Connie Reardon Kaltenbach, graduated from ND in 1954. My sister, Ann Kaltenbach Hayes, graduated from QND in 1983. My parents, Wil and Connie Kaltenbach, were actively involved in QND Development for ~25 years.
How has QND impacted your life?
The excellent education I received at QND prepared me well for college, which in turn, prepared me well for my career. Being able to write and communicate was something I took for granted until I learned that many people in the workplace do not have these skills. I also learned the value of service and caring for others – which directly led me to the volunteer work I'm doing now.
On a lighter note, I also learned to play golf at QND, although Coach Citro would likely have preferred that I had learned BEFORE joining the team. (I warned him!) Personally, I made great lifelong friends at QND. Even living in the Chicago area, I still meet up with a small group of them several times a year – and look forward to larger meet-ups in the near future!