July 24, 2020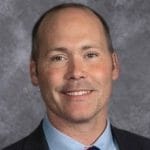 Dear QND Family,
You have been and will remain in my thoughts and prayers!  I'm excited to welcome students back to school in a few short weeks.
Upon returning, our students will be attending according to an A and B schedule.  This means that students will attend five out of every ten school days, alternating between in-person and remote learning. Those who are learning from home will be able to participate live alongside their classmates at school using their iPads.  Students will "attend" all classes on a daily basis.  This is not what we did in the 4th quarter of last school year.  While that was successful, this will be a better way of delivering instruction.  Our teachers are working diligently to make this happen!
Our administrative team has elected to implement an A-B schedule for a number of reasons; key among them is to lower the overall risk of COVID-19 transmission to our students, staff, and families.  Less people equals less risk.  I understand that the A-B schedule will impact our families in various ways. Navigating this era continues to be a shared sacrifice between school and home.
In the past I have pledged that QND would continue to provide a quality secondary Catholic education to our students and families during the 2020-2021 school year.  Our tradition of excellence is over 153 years strong!  I believe in us.  I believe in our mission.  We will succeed!
Sincerely,
Mark McDowell '95, QND Principal
April 7 Principal Video Update