Quincy, Ill. – For more than 150 years, Quincy Notre Dame, as a Catholic co-educational school, seeks to build a community of learners among its faculty, staff, students and parents. Founded on faith in God and trust among its members, this community strives to make Catholic values an integral part of its existence. Quincy Notre Dame fosters an environment of consideration and acceptance, while challenging its members to develop their potential through strong educational and extracurricular programs. Quincy Notre Dame strives to prepare its students to assume vital Christian roles in a constantly changing world.
Click here to view the 2021 QND Fund Drive video.
Quincy Notre Dame is about to renew this challenge as it kicks-off its 44th Fund Drive with a goal of $447,300.  Each year, two chairpersons take up the fundraising challenge to invest in future leaders of the community. This year, Bryan Stokes and Lydia (Keck) Miller '04 are joining numerous others who previously donated leadership to the campaign as chairpersons.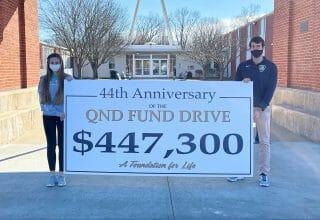 As a Catholic institution of secondary education, Quincy Notre Dame relies heavily on private support.  During the past 43 years, this support has been outstanding. The Fund Drive has raised over $17 million.
Gifts to the QND Fund Drive may be donated throughout the entire calendar year. Gifts may be mailed to QND, completed online at QuincyNotreDame.org, through PayPal or new this year you can find Quincy Notre Dame on Venmo.
The Fund Drive has seen tremendous growth since 1977. With that success comes high expectations for continued growth, as the needs of QND also grow. The Fund Drive is an essential part of a balanced QND budget. Quincy Notre Dame depends on committed community volunteers to provide leadership during the Fund Drive and to help the school meet its goals.
Dollars raised through the Fund Drive provide support for the operating budget each year. Tuition and fees do not cover the full cost of educating a student at QND. The Fund Drive helps make up the difference after tuition revenues and other grants are exhausted. The Fund Drive donations are used for the present school year.
QND's 2020-21 enrollment is 362, with 35% receiving financial assistance.