The QND Fund Drive
The QND Fund Drive keeps tuition affordable by paying a portion of the school's operating expenses to close the gap between the cost to educate and student tuition. The campaign also provides financial assistance to students. Over the past 45 years, more than $17.5 million has been contributed to QND's Fund Drive.
Kurt Stuckman, executive director of the QND Foundation, noted the importance of focusing and providing donors with information as to how investments positively impact QND. "We continue to work hard to ensure our donors are well aware of the impact they make by donating to QND. It is critical for supporters of QND to see their investment in action. The results illustrate the success generated by great leadership and tremendous community support," states Stuckman
Another avenue available to support your alma mater includes the creation of a class scholarship. QND currently manages more than 165 scholarships. If you are interested in beginning a class scholarship or a scholarship fund in honor of a loved, contact Kurt Stuckman, QND Foundation Executive Director, at 217-224-2598.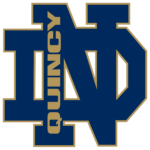 "Catholic schools are the single most important human-care delivery system ever designed, because we are dealing with young people…their minds, their hearts, and their souls."
Cardinal Joseph Bernadine