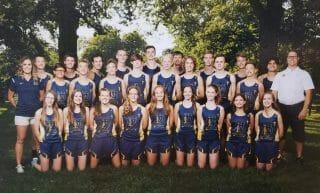 Head Coach:  Kristin Sturhahn
Assistant Coach: Ryan Pabisiak
Quincy Notre Dame Cross Country is a sport for motivated, hard-working individuals who crave personal challenge. At QND, we focus on commitment, improvement, fitness development and a positive team atmosphere.  The Cross Country programs for both the Raiders and Lady Raiders strive to offer student-athletes the physical fitness and psychological confidence to excel in the sport, but more importantly, develop strong character traits to meet challenges in life.
 The Quincy Notre Dame Cross Country Teams consist of a closely-coached co-ed, varsity, and junior varsity program. For the 2018 season, QND competes with 19 Raiders and 10 Lady Raiders.  Both teams practice together and attend the same meets.  Typically, cross country races are three miles in length.  These meets usually take place in parks or golf courses.  Teams are scored by the fastest 5 runners.  Individual runners benchmark their success by comparing their personal-best time or finishes.
Academics play an important role in any student's life.  The Cross Country athletes at QND take this role to heart.  For the 2017-2018 season, both boys and girls teams earned the IHSA Team Academic Achievement Award!!  The boys team achieved a 3.47 cumulative team grade point average.  The girls team achieved a 3.78 cumulative team grade point average.  These awards mark the twelfth straight year both cross country teams have earned this honor!  The Raiders and Lady Raiders of the 2018-2019 season are ready to continue this great scholastic success.
18th Annual Raider Challenge – June 22, 2019 at 7:30am
QND Cross Country holds a 5K/10K run/walk event on the fourth Saturday of each June.  The 18th Annual Raider Challenge will take place on June 22, 2019.  This combination road race/cross country event attracts competitive and recreational runners, walkers, families, and friends.  There is also a 1 Mile Youth Fun Run!  A link will be added here for online registration when it is available.  For more information, go to www.facebook.com/RaiderChallenge
2019 QND Cross Country Schedule
Date
Opponent
Location
Details

Thurs., Aug. 29
West Hancock, Macomb, Liberty, Beardstown, Unity
Macomb
4:30 pm
Sat. Sept. 7
Canton Invite
Canton, IL
9:00 am
Sat., Sept. 14
PORTA Invitational
Petersburg
10:00 am
Tues., Sept. 17
Running Raider Classic
South Park in Quincy
4:30 pm
Tues., Sept. 24
Liberty, QHS, Palmyra,
Illini West
Bob Mays Park in Quincy
4:30 pm
Sat., Sept. 28
Monmouth-Roseville Invite
Monmouth
9:00 am
Tues., Oct. 1
Macomb Invitational
Macomb
4:30 pm
Sat., Oct. 5
Tom Oakley Invitational
QHS-Flinn Stadium
9:00 am
Sat., Oct. 12
Liberty Invitational
Liberty
10:00 am
Sat., Oct. 19
Patriot Run
Peoria
1:00 pm
Tues., Oct. 22
WCC Conference Meet
Monmouth
4:30 pm