Benefiting the QCES & QND Foundations
2022 Mega Raffle Official Rules              2022 Mega Raffle Frequently Asked Questions
SOLD OUT!!!!
---
$100,000 Grand Prize
Only 4,000 Tickets Sold            42 Cash Prizes totaling $169,500           Tickets are $100
---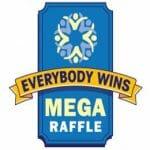 Full List of Prizes:
First Prize: $100,000
Second Prize: $20,000
Third Prize: $10,000
4th-7th Prize: $1,000
8th-15th Prize: $500
16th-25th Prize: $250
26th-35th Prize: $100
Super-Early Bird Prize: $25,000
Fantastic Friday Prize: Six $500 winners
---
Fantastic Fridays Early Bird Drawings
Two winners will receive $500 on each of the following days:
May 27, June 3 and June 10 (these drawings will take place live on 97.9 KICK-FM)
*To qualify for the Fantastic Friday drawings tickets must be turned into the QND Foundation office by May 20, May 27 and June 3 respectively)
All Fantastic Friday and Super-Early Bird winners still qualify for all future drawings including the $100,000!
Mega Drawing
The Mega Drawing for the top three prizes and 32 additional prizes will be held on Saturday, June 11, 2022, at the St. Francis Parish Picnic beginning at 7:00 p.m.
---
Quick Facts
Checks should be made payable to: Everybody Wins Mega Raffle.
Tickets are available for purchase through all Quincy Catholic school families, school offices and online by clicking the link above.
Only the first 4,000 tickets received by the QND Foundation office with payment will qualify. Please note, the 2021 sold out before the Super-Early Bird deadline, so don't delay in turning in your tickets!
Multiple purchasers of a single ticket are allowable. Each prize will be paid to a single winner or a purchaser of record on the ticket. Raffle manager is not responsible for dividing prize to multiple purchasers.
Buyers have the option to designate $10 of their ticket purchase to one or more schools through the Ticket Give-Back Program. If multiple schools are marked on the ticket, the $10 will be split evenly between them.
All prizes are subject to Federal and State withholding taxes.
Do not need to be present to win.
Raffle Manager is Schreacke & Associates, PC, Quincy, IL.
Thank you to our 2022 sponsors!
Sterling: Quincy Recycle, Refreshment Services Pepsi
Platinum: Farm & Home Supply
Gold: County Market,  97.9 KICK-FM
Silver: Adams Fiber, Central State Bank, Farmers Bank of Liberty, First Bankers Trust Company, First Mid Bank & Trust, Jones Poultry/Native Grill & Wings, jt Creative Solutions, Mercantile Bank, Merrill Lynch, State Street Bank, Stifel Nicolaus & Company-Quincy
---
For more information on the "Everybody Wins" Mega Raffle, contact Sara Reuschel, Executive Director QCES Foundation at (217) 779-3157 or Kurt Stuckman, Executive Director QND Foundation at (217) 224-2598.