Student Leadership Team (SLT)
The QND Campus Ministry Student Leadership Team (SLT) is a select group of upperclassmen wanting to be leaders in faith throughout school.  Students undergo an application and interview process in the spring in order to be invited to be on the team.  The students sign a covenant agreeing to make the SLT a priority in their life and agree to the following (among other things):
Attending 4-6 SLT meetings over the summer

Attending a

Steubenville Retreat

in Springfield, MO over the summer as a team

Attending 80% of our monthly SLT meetings during the school year

Attending 75% of Wednesday night HAFOCs

Living out the "Big 3" virtues: sobriety, chastity, and excellence
Purpose
Falling under the Ministries of Community Life, Leadership Development, and Pastoral Care, students are given the opportunity to grow as a team together, holding each other accountable to living out their own faith.  Students are given training in leadership and are encouraged to lead their classmates, schoolmates, teachers, and families to Christ.  Members of the team understand that in order to lead others to grow in their faith, they must be constantly growing in their own faith.  In order to encourage the team members in their own faith, monthly one on one meetings are scheduled with an adult leader for accountability and encouragement.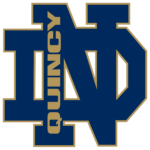 "I am currently a college freshman at Benedictine College studying Theology and Mass Communications. My faith grew exponentially as a student largely due to the fact that I was able to attend H.A.F.O.C., help with music ministry around the school and community, take part in a Bible study, and especially by being a member of the Student Leadership Team. It was so great to grow close with other members of the SLT. I knew many of them, but it was awesome to be able to grow closer with them in our relationship with Christ. We were able to attend events such as the Steubenville Conference and the Youth Diocesan Conference. It was a great opportunity to hear speakers, grow in our own spirituality, learn about our faith, and have fun! We were able to attend Mass, go to adoration, and get destroyed in dodgeball by Sister Karolyn.
Besides these bigger events, during the meetings we grew closer together. It was so comforting to know that each of us had a support system that was praying for us and rooting us on as we grew in our relationship with Christ. If I was struggling with something I knew that my other team members would support and encourage me, and if I experienced a success they were there to celebrate. The community we built within our team translated to the school community that we hoped to serve. We were able to get to know people at H.A.F.O.C. that we may not have been able to otherwise by welcoming them and talking with them. We also helped lead Bible studies where we were able to grow in our understanding of God's word and the promises they contain. Many of us helped at events like Freshman Retreat and got to share our experiences at Quincy Notre Dame with the incoming students. In return, we got know them much better and reflect on our memorable high school years.
I think one of the biggest take-aways I got from being a member of the SLT was learning what it truly means to be a Christian leader. Many leaders are recognized for the great things they do whether they seek that recognition and attention or not. We worked hard to be humble servant leaders. It wasn't about who was doing the tasks, but rather the fact that they were getting done because we wanted to serve our fellow students. SLT to us wasn't a source of popularity, or power, or something interesting to put on a college application. It was an opportunity to bring the students of our school close to Christ. This meant doing the unexciting jobs like cleaning up after H.A.F.O.C. or other events, not only without complaining, but with joy! It meant stepping out of our comfort zones to talk to students we did not know as well. It meant understanding that any impact we made was because of God's greatness and not ours. Humility and service is at the heart of the SLT. I can honestly say that the SLT impacted me as a college student and will continue to impact me later in life.
At college and hopefully in my future career, I hope to bring the love of Christ to other people just like I started learning about while serving on this team. It helped me deepen my spirituality that is definitely a challenging aspect of remaining in a relationship with God in college. Most importantly it taught me the virtues of humility and compassion. I have the confidence to step out of my comfort zone and talk to people about college and care about them and what is going on in their life. I am able to admit mistakes, try again, and when I succeed be humble enough to thank God for his help in that success. I am grateful for the growth that I experienced as a member of the SLT and I encourage anyone with a servant's heart and a love for God and making a difference in His name to consider this is ministry."
"The Student Leadership Team was an awesome opportunity to spend time and learn with other teens, that are fired up about their faith, about how to share my faith and be a disciple for Christ while being a leader in society. We had a lot of fun sharing the good news and living out God's will. It provided lots of opportunities to grow my own faith and share it with others. On the SLT I was motivated to step up and get out of my comfort zone. It was extremely rewarding and I often miss the moments we shared. If you are considering joining the SLT I recommend it. The application is worth it and remember you get out what you put in. Thank you and God Bless." -Ean Keppner, '17
 -Ginny Steinkamp '17