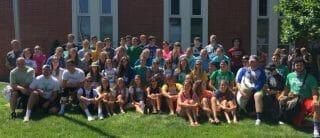 Since 1999 QND students have traveled all over the country each summer to spend a week doing service and growing in their faith.  Catholic Heart Workcamp is a national organization who organizes camps all over the United States.  Throughout the day, groups converge on a city and serve the less fortunate, doing a variety of projects such as painting and yard clean up.  In the evenings, the students and adult chaperones participate in "programming" that challenge the students to grow in their faith in an engaging, dynamic way.  
Approximately ¼ of the QND student body attends Catholic Heart Workcamp each summer.   We have recently gone to places such as Colorado Springs, CO, Melbourne, FL, and Hartford, CT.  
Purpose: Falling under the Ministries of Service and Justice, Evangelization, and Prayer and Worship, Catholic Heart Workcamp is one of our most popular ministry offerings.  Students are given the chance to live out the corporal works of mercy by serving the less fortunate in a very tangible way.  One of the aspects that makes this experience so powerful is the direct, face-to-face interaction with those they are helping.  This interaction can also lead to an opportunity for evangelization.  The students are often able to share what their faith means to them with their fellow group members and the people they serve.  Finally, students have many opportunity for prayer and worship throughout.  Whether it be daily Mass, an optional daily Rosary, or exciting praise and worship music, students are able to connect with their God in a personal way at Catholic Heart.  
"Catholic Heart Workcamp was an amazing experience for me. I really enjoyed working with people from different churches and making an impact on other peoples' lives. Seeing their faces light up after you help them just shows how grateful they are for it all. I've made great friendships from camp and it has helped my faith life by bringing me closer in my relationship with God and being able to bring it into the lives of others." – Erika Eaton '18