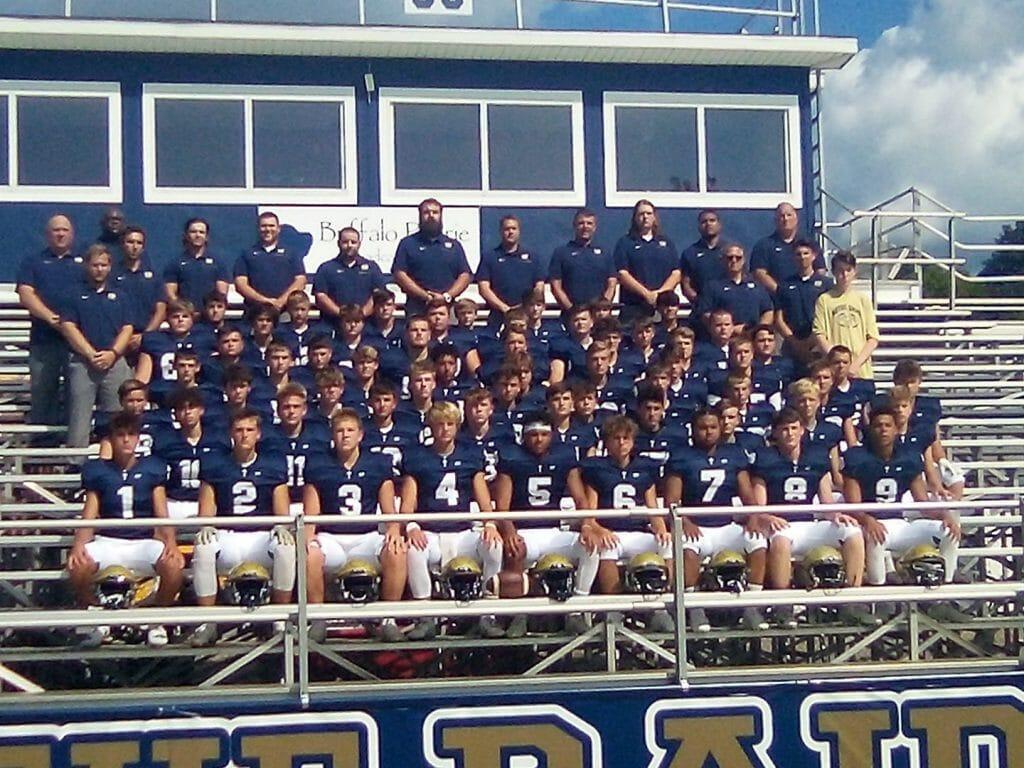 Head Coach:  Jack Cornell '07
Assistant Coaches:  Ben Morrison '10, Bob Sheffield, Nick Aschemann '17, Brady Genenbacher '12, Mike Baker, Brent Fischer '85, John Smith, Chris Bockius, John Lavery '90, Dominic Scott, Logan Hicks, Blake Ulrich '17, Jamie Fierge
Head Statistician:  Russ Hinkamper '84
Click here for the official QND football page.
A Raider home game is the place to be on a Friday night. Nothing starts the weekend better than grills billowing barbecue smoke high into the air; little children chasing footballs all over the neighborhood, starting their own pickup games; families getting together to cheer their sons and neighbors to victory on the field. When you attend your first QND home game, you always come back for more. Good luck to the 2019 Quincy Notre Dame Football Raiders!
QND opens its season on Aug. 30 at home against Lexington, Mo. Five games are at home. Homecoming is scheduled for Oct. 18 against Alton Marquette.
2020 QND Varsity Football Schedule
| Date | Opponent | Location | Details |
| --- | --- | --- | --- |
| Fri., Aug. 28 | Quincy High School | QND | 7:00 p.m. V |
| Fri., Sept. 4 | Rock Island Alleman | Away | 7:00 p.m. V |
| Fri., Sept. 11 | Woodstock North | Away | 7:00 p.m. V |
| Fri., Sept. 18 | West Hancock | Away | 7:00 p.m. V |
| Fri., Sept. 25 | Jennings, Mo. | QND | 7:00 p.m. V |
| Fri., Oct. 2 | Breese Mater Dei | QND | 7:00 p.m. V |
| Fri., Oct. 9 | Macomb | QND | 7:00 p.m. V |
| Fri., Oct. 16 | Granite City | QND | 7:00 p.m. V |
| Fri., Oct. 23 | Richmond-Burton | QND | 7:00 p.m. V |