Quincy Notre Dame Fund Drive
The QND Fund Drive keeps tuition affordable by paying a portion of the school's operating expenses to close the gap between the cost to educate and student tuition.
The campaign also provides financial assistance to students. Over the past 45 years, more than $17.5 million has been contributed to QND's Fund Drive.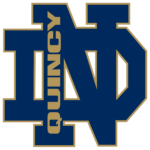 "We continue to work hard to ensure our donors are well aware of the impact they make by donating to QND. It is critical for supporters of QND to see their investment in action. The results illustrate the success generated by great leadership and tremendous community support."
Kurt Stuckman, QND Foundation Executive Director
How does the money collected from the Fund Drive impact QND?
Bridges the gap between the cost of tuition and the cost to educate.
Supports operational costs of Quincy Notre Dame High School
Provides financial assistance to QND students
The money raised helps keep tuition affordable by paying a portion of the school's operating costs and closing the gap between the cost to educate a student and tuition. The Fund Drive additionally supports QND's financial aid program.
How can my gift make a difference?
Every gift—no matter what size—makes a difference! Your generosity has an immediate effect. Gifts are added to the operating costs for the current year. What's more, your support encourages others to give. Many foundations and corporations that offer financial support and other assistance are reassured of the integrity of Quincy Notre Dame because strong supporters are at the heart of its own community.