Varsity Head Coach: Kevin Meyer '89 (159-69 entering 9th year at QND)
Associate Head Coach: Brady Frericks '07
Assistant Coaches: Mike Kindhart, Nathan Lunt '08, Jonas Petty, Scott Douglas
Trainer: Kyle Leapley
Quincy Notre Dame basketball is entering its 91st season with 1,550 career wins. The Raiders have won 34 Regional titles, 9 Sectional titles and have 5 State tournament appearances. Home games are played at The Pit, rocking with Raider Pride. Come out and see the Raiders in action!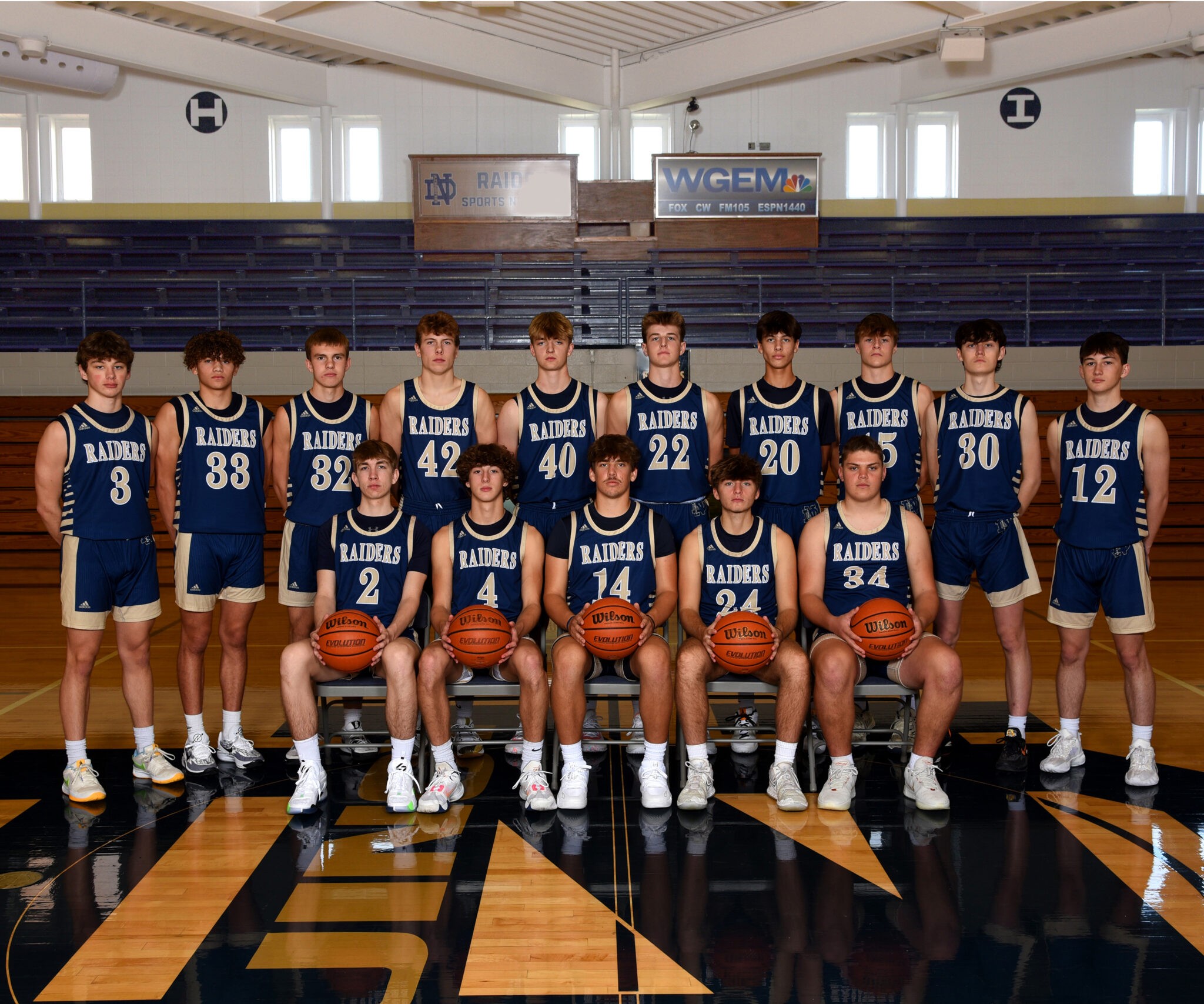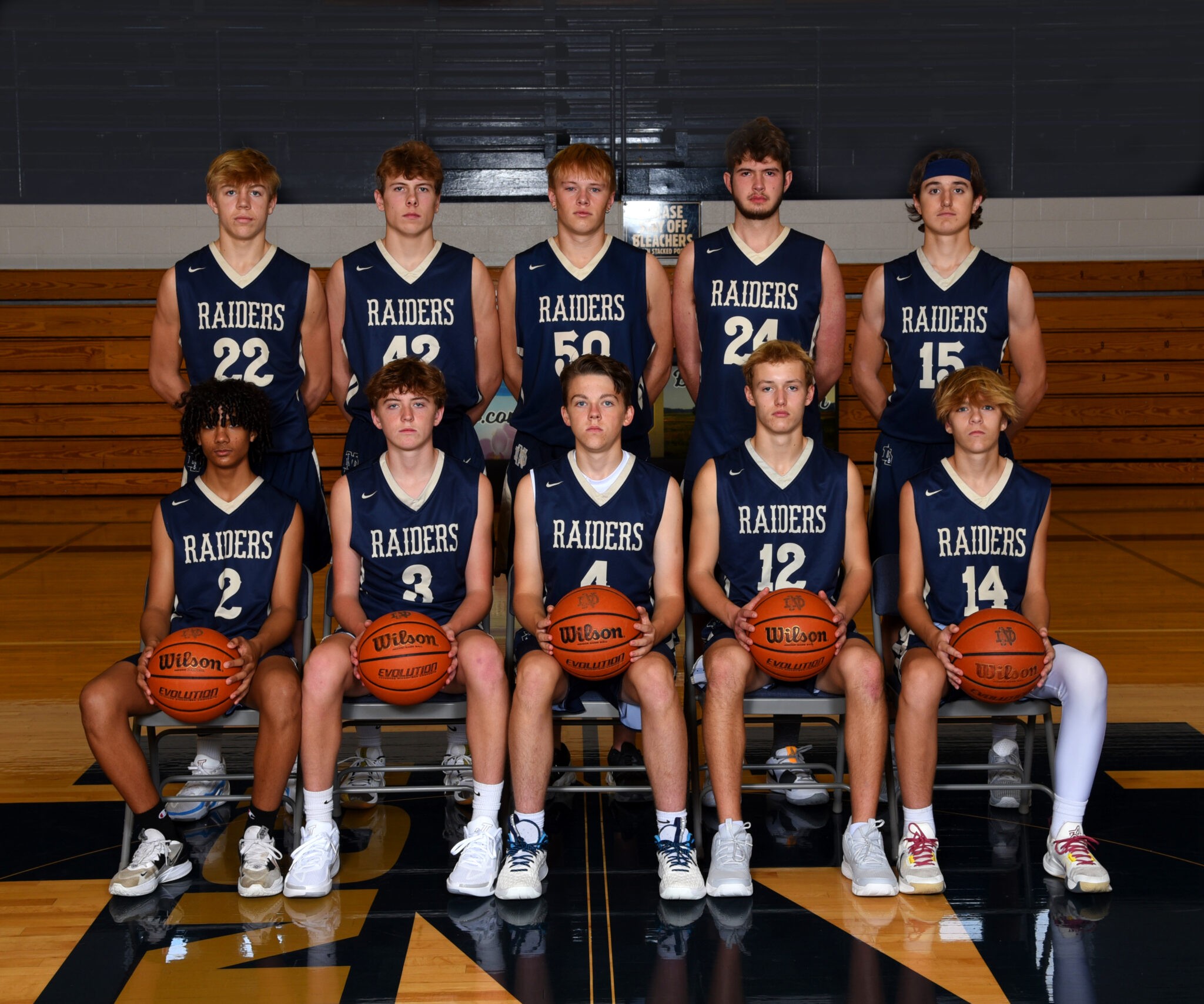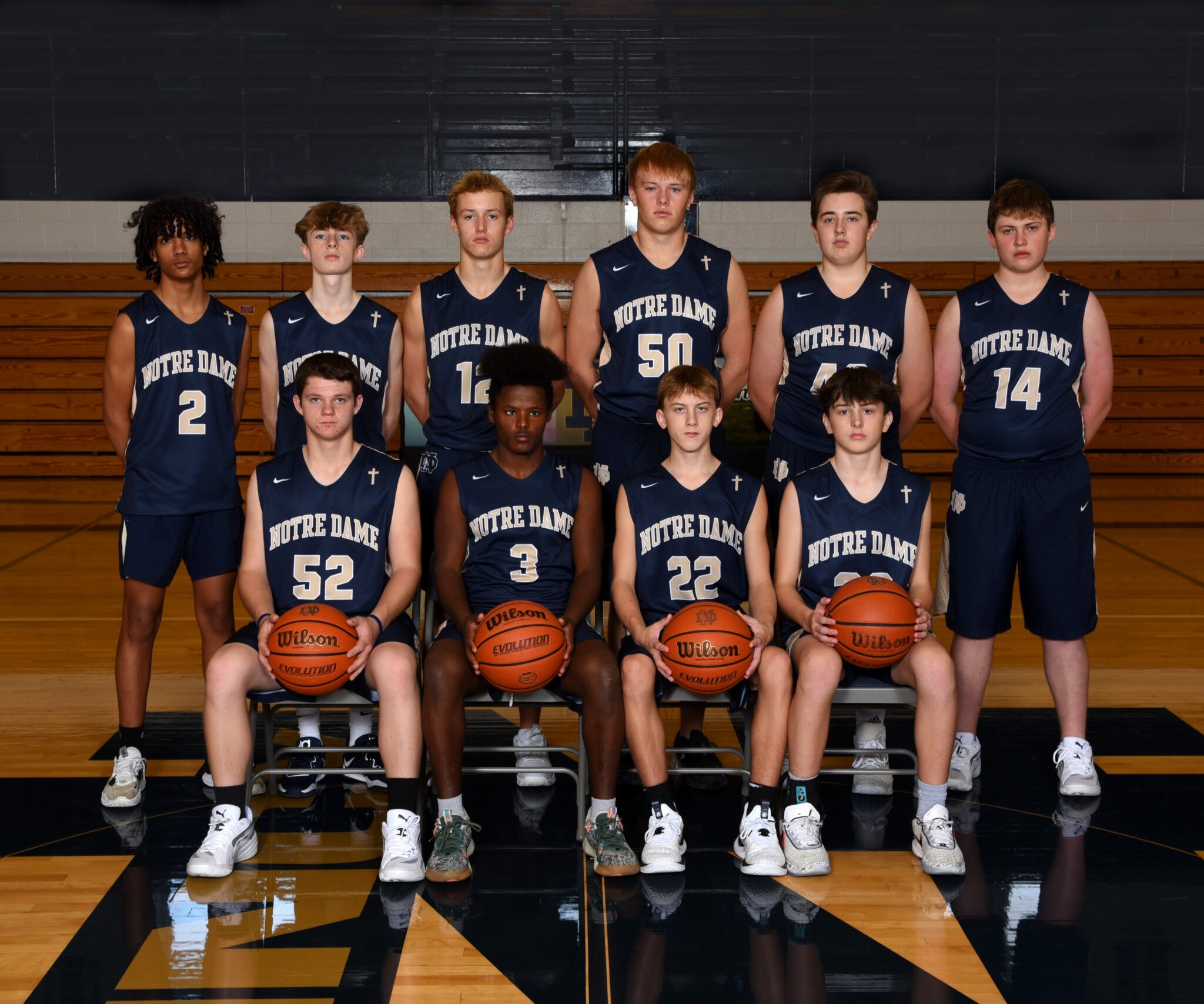 2023-24 QND Boys Basketball Schedule
| Date | Opponent | Location | Details |
| --- | --- | --- | --- |
| Fri., Nov. 24 | QND Tip-Off Tourney vs. McCluer | QND | 3:30 pm JV |
| Fri., Nov. 24 | QND Tip-Off Tourney vs. McCluer | QND | 6:30 pm V |
| Sat., Nov. 25 | QND Tip-Off Tourney vs. Gateway Stem, STL | QND | 3:30 pm JV |
| Sat., Nov. 25 | QND Tip-Off Tourney vs. Gateway Stem, STL | QND | 7:00 pm V |
| Mon., Nov. 27 | Quincy Senior High | Away | 6:00 pm F |
| Wed., Nov. 29 | Macomb | QND | 6:00 pm F |
| Fri., Dec. 1 | Sacred Heart-Griffin | QND | 5:30 pm JV-V |
| Sat., Dec. 2 | Macomb | Away | 5:00 pm JV-V |
| Mon., Dec. 4 | Payson Tourney vs. Unity | Away | 6:00 pm F |
| Wed., Dec. 6 | Payson Tourney vs. West Hancock | Away | 6:00 pm F |
| Thurs., Dec. 7 | Payson Tourney vs. Payson | Away | 7:15 pm F |
| Fri., Dec. 8 | Southeastern | QND | 5:30 pm JV-V |
| Sat., Dec. 9 | Normal West | SHG | 10:00 am F |
| Sat., Dec. 9 | Sacred Heart-Griffin | SHG | 11:30 am F |
| Sat., Dec. 9 | QHS Tournament | Away | TBA JV |
| Sat., Dec. 9 | Hannibal | QND | 6:00 pm JV-V |
| Mon., Dec. 11 | QHS Tournament | Away | TBA JV |
| Tues., Dec. 12 | Palmyra | QND | 7:30 pm V |
| Wed., Dec. 13 | Mendon Unity | Away | 6:00 pm F |
| Wed., Dec. 13 | QHS Tournament | Away | TBA JV |
| Fri., Dec. 15 | Camp Point | Away | 6:00 pm JV-V |
| Sat., Dec. 16 | Williamsville | Routt | 10:30 am F |
| Sat., Dec. 16 | Jacksonville Routt | Routt | 12:00 pm F |
| Sat., Dec. 16 | Quincy High School | QND | 5:00 pm JV-V |
| Thurs., Dec. 21 | Payson-Seymour | Away | 6:00 pm JV-V |
| Wed.-Sat., Dec. 27-30 | State Farm Classic | Away | TBA V |
| Fri., Jan. 5 | Pittsfield | Away | 6:00 pm JV-V |
| Sat., Jan. 6 | QHS Tourney | Away | 8:00 am F |
| Sat., Jan. 6 | Christie Clinic Shootout | St. Joe Ogden | 3:00 pm JV |
| Sat., Jan. 6 | Christie Clinic Shootout | St. Joe Ogden | 5:00 pm V |
| Sat., Jan. 13 | BCC Shootout | Away | TBA JV-V |
| Mon., Jan. 15 | Illini West | QND | 6:00 pm F |
| Mon., Jan. 15 | BCC Shootout | Away | TBA V |
| Fri., Jan. 19 | QHS Shootout vs. Principia | QND | 7:00 pm V |
| Sat., Jan. 20 | Pittsfield | Away | 10:00 am F |
| Sat., Jan. 20 | Beardstown | QND | 5:30 pm JV-V |
| Mon., Jan. 22 | Palmyra | Away | 6:00 pm JV |
| Tues., Jan. 23 | Illini West | Away | 6:00 pm JV-V |
| Thurs., Jan. 25 | Western | QND | 5:30 pm JV-V |
| Sat., Jan. 27 | CSE | Camp Point | 9:00 am F |
| Sat., Jan. 27 | West Hancock | Camp Point | 10:00 am F |
| Fri., Feb. 2 | QND Shootout vs. Madison | QND | 8:00 pm V |
| Sat., Feb. 3 | QND Shootout vs. West Central | QND | 8:00 pm V |
| Sat., Feb. 3 | Illini West | Camp Point | 10:00 am F |
| Tues., Feb. 6 | Mendon Unity | QND | 6:00 pm JV-V |
| Wed., Feb. 7 | Quincy High School | Away | 6:00 pm F |
| Fri., Feb. 9 | Liberty | Away | 6:00 pm JV-V |
| Sat., Feb. 10 | Rushville-Industry | QND | 5:00 pm JV-V |
| Tues., Feb. 13 | West Hancock | Away | 6:00 pm JV-V |
| Fri., Feb. 16 | Keokuk | QND | 4:45 pm F-JV-V |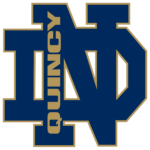 Play Hard · Play Smart · Play Together