Inducted 1994. Won First 17 Games Before Losing in State Championship Game.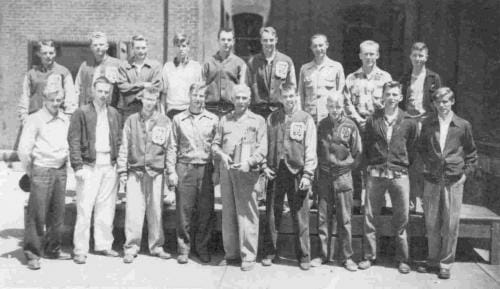 Plenty was expected of the 1952 Raiders, who reached the sectional final in 1951 but lost to eventual state champion Pekin 5-4 in 10 innings. They did not disappoint.
Notre Dame won its first 17 games before losing 5-3 to Cicero Morton in the state championship game. The Raiders were led by big Jim Bickhaus, who was the winning pitcher in 12 games. QND held its opponents to three runs or less in all but three of its games, and six victories were shutouts.
The Raiders won the regional championship by defeating Quincy High School 5-3, then went on to defeat Bowen 8-3, Peoria Spalding 4-3 and Galesburg 5-3 to advance to the state tournament. Bickhaus threw shutouts in the first two games – a 4-0 decision over Waukegan and another 4-0 decision over tiny Gorham. However, a limitation on innings pitched at the state tournament prevented Bickhaus from taking the mound in the title game.
The team was coached by Pete Affre. Members of the team included seniors Bickhaus, Bob Cudney, Jerry Koetters, Ken Bockenfeld, Bob Bastean, Dan Dittmer, Clarence Peter and George Klingele; juniors Joe Nolan, Jim Damhorst, John Peters, Bob Amburn and Ed Hummert; sophomores Jim Morris and Moe Klingele; and freshmen Paul Gail, Richard Meckes and Alan Fischer. The scorekeeper was Charles Peter, who ironically didn't miss a game except for the last one. He returned to Quincy to attend graduation ceremonies that night.