Inducted 2000. Set School Record With 26 Victories.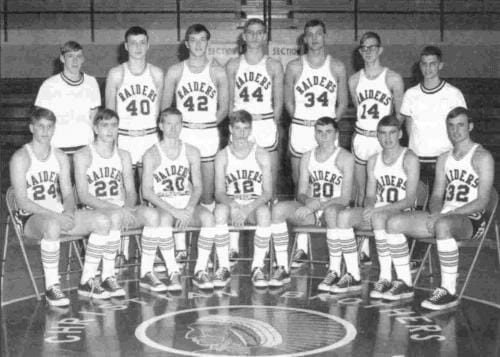 The Raiders didn't win a state trophy or even reach the state tournament, but they still had one of the most memorable seasons in the history of the boys basketball program. They set a school record for victories with a 26-3 record, and they ended an 11-year drought in the postseason when they knocked off Quincy High School 67-65 to win the single-class regional championship.
The three losses suffered by the Raiders were by a combined total of nine points. The team averaged a remarkable 78 points per game and outscored the opposition by an average of nearly 20 points per game. The team won the Hannibal Thanksgiving Tournament and finished third in the Edwardsville Holiday Tournament. Victories that season came against much bigger schools such as East St. Louis, East St. Louis Lincoln, Burlington (Iowa), Chicago Dunbar, Chicago Hirsch and Chicago Carver. The Raiders' season ended in the sectional championship when they were upset by Pittsfield, a team they had beaten twice earlier in the season.
George Scholz earned All-State honors in his senior season, and Brad Volm, Gary Queen, Roger Player and Tom Sparrow earned honorable mention recognition.
Bob Bender was the coach, and his assistant was Chuck Budde. Jeff Niekamp and Dennis Cassidy were the managers. The players were Joe Terwelp, Tom Sparrow, Brad Volm, George Scholz, Terry Terwelp, D.A. Weibring, Bruce Miller, Roger Stuckman, Don Schutte, Roger Player, Gary Queen, Curtis Koch, Jim Fitch and Mark Schuering.