Inducted 2003. Second Place Finisher at 1978 Class A State Meet.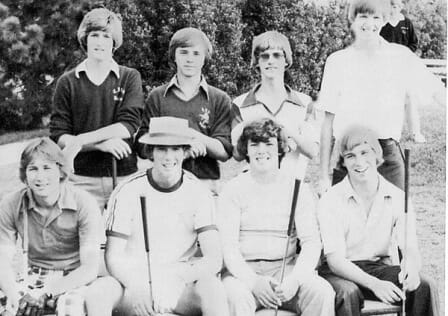 More than 25 years ago, a pair of young coaches at QND made a bet between each other as to which one could bring back the school's first-ever state championship. Bill Starkey eventually won that bet when the volleyball team won the 1978 state tournament, but the boys golf team nearly helped their coach, Jim Citro, win that bet.
The Raiders, who had placed fourth in the 1976 and 1977 state meet, cruised through the regular season with 12-0 record, then won the Class A district meet at Westview Golf Course with a team score of 307 — 16 strokes better than runner-up Hamilton. Matt Ehrhart finished as the team medalist in the district with a 74, and four Raiders placed among the top eight finishers.
QND then won the sectional crown at the Illinois State University course in Normal, posting a score of 319 to edge runner-up Dwight by five shots. Dan Talken was the team's medalist that day with a 75, but several other players struggled on a cold and windy day. Senior Ted Siebers turned in a clutch round of 81, and his score was counted for the first time in team competition all year.
The Raiders held a four-stroke lead over three-time Class A state champion Carmi after the first day of play at Springfield's Lincoln Greens, but the team posted its highest score of the season on the second day at The Rail to place 14 shots behind Carmi. Ehrhart and Talken both finished among the top 10 individuals.
Team members, as shown in the picture above, were, front row from left, Dave Aschemann, Dan Talken, Chris Hogge and Joe Blonski; back row, Matt Ehrhart, Chris Zwick, John Schwener and Ted Siebers. Coach Jim Citro is not pictured.
This team's second place finish at the Class A state tournament was the third straight state appearance in a row for the Raiders. These were the first years of Class A golf, and these players and teams sent a message heard all through Illinois that QND was a powerhouse in boy's golf. The 16 state tournament appearances by the Raiders attest to the accuracy of that message. Not only was this a group of fine golfers, but it also was a group of fine young men. I feel fortunate to have had a chance to watch and get to know them and consider each a friend to this day. — Coach Jim Citro