Inducted 2001. Team Successfully Defends Class A State Championship.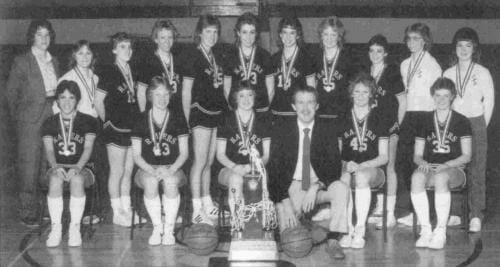 This team posted a 30-2 record and closed the book on one of the greatest runs of success in Illinois girls basketball history, defending their Class A state championship and bringing home a trophy from the state tournament for the fourth consecutive year.
The Lady Raiders, under first-year coach Jim Shields, were ranked No. 1 in the state poll until a one-point loss to Carthage in February dropped them to No. 2. QND rolled past Brown County 75-41 and Central 70-49 in the regional, then crushed Mason City 101-39 and Beardstown 7245 to win the sectional at Meredosia.
At the Carlinville Super-sectional, QND met No. 1-ranked Litchfield. The Lady Raiders trailed by as many as 11 points early but went on to post a 68-66 victory as seniors Lori Vogel and Susan Wellman combined for 49 points. QND defeated Lemont 69-50 and Bushnell-Prairie City 62-58 to reach the title game, where it edged Teutopolis 56-53 in overtime. Vogel made two free throws with eight seconds remaining in overtime to seal the victory in the title game. Vogel and Wellman were named to the all-tournament team. Wellman and Harvey Thornton's Lou Boudreau, who went on to become a Hall of Fame baseball player, were the first female and male players in state history to be named to the all-tournament team three times.
Team members were Jane (Duesterhaus) Frazier, Teri (Glanzman) White, Dorothy (Grawe) Haley, Rhonda (Hinkamper) Jensen, Jane (Laird) Clark, Cyndi (Peter) Bender, Kim (Reagan) Neumann, Stacey (Doellman) Davis, Annette (Speckhart) Kurtzwell, Ellen (Venvertloh) Vonderheide, Theresa (Venvertloh) Stoll, Lori (Vogel) McPike, Becky (Winking) Wolf, Sherri (Winking) Foley, Susan Wellman and Peggy (Wolf) Fisher. Coaches were Jim Shields and Cathy Fetter.
Without a doubt, this team should be considered among the best girls basketball teams of any era in the state. The game against Litchfield was one of the most memorable games in Illinois history, and the state title game in Assembly Hall proved to be just as exciting. They were an extremely coachable group of players for having that much talent. I was the new guy on the team, and they were readily acceptable to my ideas. Those seniors had played for Ivan Brown and Marvin Smith, and then they had me. Had that team not been as coachable as they were, they could have squandered that talent. That's what impressed me the most about that team, and it's what I will always remember about them. — Jim Shields