Inducted 2004. Lost State Championship Game on Penalty Kicks after Eight Overtimes.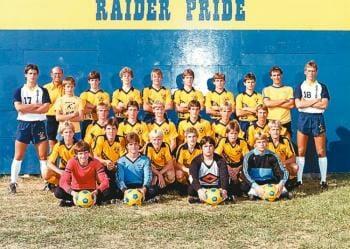 Who could have expected much from the 1984 boys soccer team? The Raiders lost 10 starters from a team that went 15-7-1 a year before. However, this squad went on to produce three professional players, one high school All-American and four others who played at the NCAA Division I level in college.
The Raiders defeated Springfield 2-0 in the sectional title game to make it to the state tournament. Trailing 1-0 to top-ranked and undefeated Hinsdale South with seven minutes remaining in the quarterfinals, QND scored twice to win 2-1. QND then whipped St. Charles, the host school, 4-2 in the semifinals, but lost leading scorer Mark Thomas to a concussion late in that game for the rest of the tournament. In the title match, the Raiders and Palatine Fremd played through 80 minutes of regulation play and eight 5-minute overtimes before losing on penalty kicks. QND finished with a 20-4-2 record, and most of these players returned as part of a state championship team the next season.
Brad Haubrich was the manager. Jenny (Johnson) Kewney and Angie (Venvertloh) Keel were the statisticians. Phil Eck was the assistant coach, and Al Knepler was the head coach. Players were Craig Davis, Brian Anderson, Jeff Tweedell, Steve Werner, Tony Adolfs, Shawn Cummings, Jim Sohn, Brian Dannehold, Kevin Koetters, John Prow, Tom Beck, Jim Liesen, Chris Mackenzie, Pat Klingele, John Johannes, Brian Bastean, Scott Mackenzie, Greg Reis, John Brueggman, Brian Vahlkamp, John Keppner, Mark Thomas, Bernie Vahlkamp and Chris Bichsel.
On behalf of the 1984 soccer team, I would like to thank the Hall of Fame Committee for bestowing this great honor, not only on a great team but on a great group of young men. The 1984 Raiders were the first team in school history to score a goal at state and bring home a trophy. They also have the distinction of holding the IHSA record for the longest soccer championship game ever. On this, the 20th anniversary of that historic second-place finish, I have so many wonderful memories. I could never put them all down on paper. I would like to thank my players, coaches, support staff, cheerleaders, parents and great fans. You were all instrumental in making this dream season come true. — Al Knepler