When the discussion of the best boys basketball teams in school history is held, the 2003-04 team is on a very short list.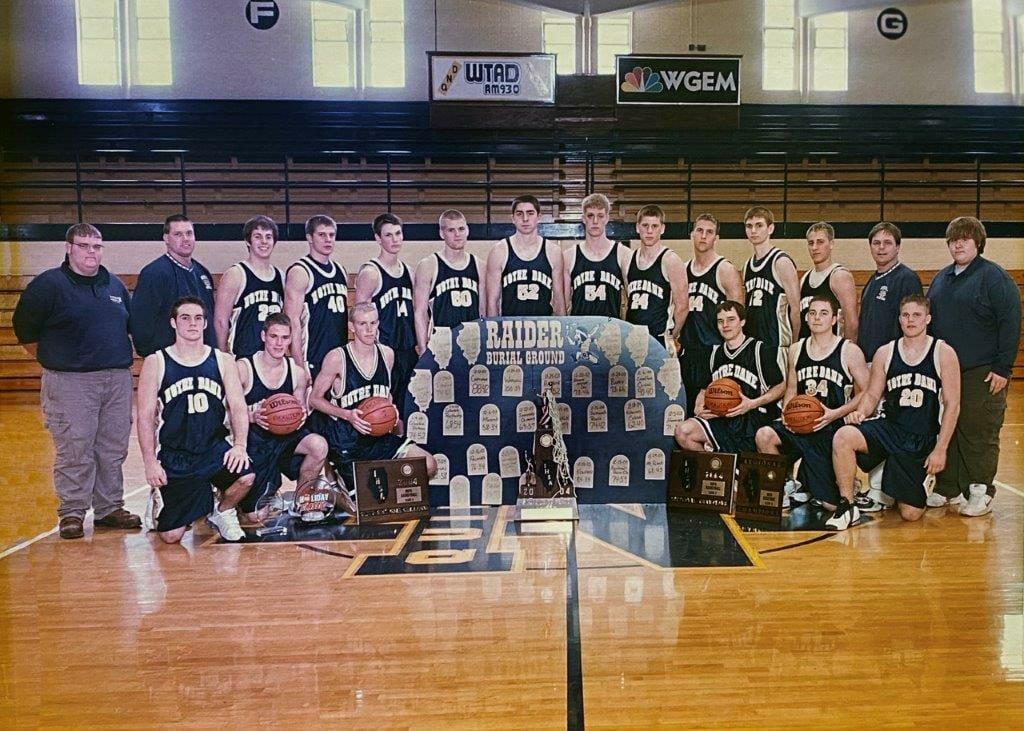 The Raiders opened the season with a 100-39 victory over Warsaw, and they won their first 12 games before losing to LaGrange (Ohio) Keystone in the championship game of the State Farm Holiday Classic. The Raiders' other losses were to Normal University High and Pleasant Plains, but they had 17 victories of 20 points or more during the regular season.
QND were ranked No. 1 in the Class A state poll for much of the season and finished at No. 4. The Raiders opened the regional with a 51-point victory over Unity, then fought to a 60-57 victory in the regional title game over Barry. The Raiders whipped Macomb by 25 points in the sectional semifinal at Havana, then held on to defeat Brown County 70-66 in the sectional championship.
A 62-50 victory over Rock Island Alleman in the super-sectional sent the Raiders to the state tournament, where they opened with a 87-66 victory over Pana. QND lost 70-55 in the semifinals to eventual state champion Chicago Leo but recovered to defeat Peoria Christian 87-73 for third place.
Johnny Bocke led the team in scoring at 14.1 points per game and was named to multiple all-state teams. Joe Terwelp was named to the all-state tournament team. The Raiders had seven players average more than five points per game, and they used their depth to outscored opponents by an average of 22 points per game. Ten players went on to play a sport in college.
Team members were Bocke, Terwelp, T.J. Kistner, Kyle Bocke, Chris Peters, Adam Terstriep, Zac Greer, Johnny Bordewick, Luke Greenwell, Jason Green, Jay Nuessen, Lucas Cramsey, Channing Peters, Ryan Fesler, Shawn Emerick and Brian Morrell. Eric Doran was the team manager. Scott Douglas was the head coach. Assistant coaches were Bob Sheffield, Kevin Meyer, Kyle Frericks, Michael Young, Kevin Reller and Luke Henke.
"On behalf of the 2003-04 Raider Basketball Team, I would like to thank the Hall of Fame Committee for this incredible honor. There is no doubt this edition of Raider Basketball holds a very special place in the history of Quincy Notre Dame boys basketball. It was made special by a wonderful group of youth coaches, assistant coaches, parents and players. We were all very blessed to have had the chance to be a part of this team." – Head Coach Scott Douglas at 2021 Induction