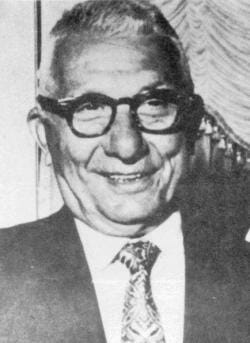 Inducted 1994 – Coached Three Sports For 15 Years
Affre helped build the great athletic tradition at Quincy Notre Dame when he coached three sports for 15 years, beginning his career in Quincy at what was first known as Quincy College Academy.
Born in 1903 in Messina, Italy, Affre was an outstanding three-sport athlete at Quincy High School and attended Quincy College, then played semi-professional football for one year in 1927 before enrolling at the University of Iowa. He was a halfback on the Hawkeyes football team. Affre coached at Correctionville, Iowa, before returning to Quincy. Along with coaching baseball, basketball and football, Affre also taught manual training and mechanical drawing He coached several good teams during his stay at QND, with possibly his best season coming in 1952. The football team was undefeated, the basketball team finished with a 17-5 record and the baseball team won its first 17 games before losing in the state championship game.
Affre retired from coaching and teaching during the summer of 1952. "Pete Affre worked for peanuts for 22 years," said Herman Schneideman, who played professional football and was a teammate of Affre's at Iowa. "He loved the family of young men he could teach, challenge, cajole and urge on to heights they never otherwise could have achieved." Affre and his wife, Ruth, operated a restaurant at 401 Broadway for several years after his retirement. He later served as a parole officer, retiring in 1973. He was recognized by the Illinois General Assembly in November 1977, and the Peter V. Affre Endowment Fund was established at Notre Dame that same year.
Affre died on October 19, 1980. He was 77.