Inducted 2009. Team Overcomes Losing Record in Regular Season to Finish Fourth in Class A Tournament.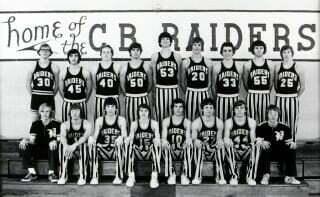 When postseason play began during the winter of 1974, who would have ever guessed that a team that started regional play with a 10-13 record would be playing on the final weekend of the basketball season three weeks later?
The Raiders, under first-year coach Phil Conover, played against a schedule loaded with Class AA opposition. They opened the season losing three games at the Collinsville Tournament, and they closed the season losing four of its last six games. Catholic Boys then struggled through regional play, edging Central by three points and then Payson Seymour by three points before defeating Barry for the title. Victories over LaHarpe and Havana in sectional play gave the Raiders momentum going into the supersectional, where they edged Franklin 70-66. Catholic Boys then stunned once-beaten and No. 4-ranked Prophetstown 55-44 in the quarterfinals before losing in the semifinals to Ottawa Marquette and in the third-place game to Chicago Christian.
Chris Curran, who averaged 18.3 points per game, was named to the Chicago Daily News all-state team and was an all-tournament selection at the state tournament. Marc Miller and Jay Frericks also averaged in double figures for the Raiders.
Team members, listed as they are pictured in the photo, were statistician Paul Terwelp, Mike Hummert, Ted Awerkamp, Tim Koetters, Ted Wolf, Gary Barry, Marc Miller, assistant athletic trainer Rick Flinn, Mark Dietrich, Greg Fischer, Chuck Grawe, Rod Bockenfeld, Mike Real, Jay Frericks, Chris Curran, Chuck Rose and Jack Terwelp. Steve Spanich was the head coach. Phil Conover was the head coach.
When I reflect back, several images come immediately to the forefront: a Class AA schedule; starting the season at the Collinsville Holliday Tournament; losing two at the Macomb Holliday Tournament, and the immediate three-hour practice afterwards; pushing into January and beginning to feel the team coming together, and the great finish. Of course, I never think about this team without remembering Chris Curran and the role he played that year. I'm saddened that he is not with us to share the memories. This team not only had to deal with a new coach, new system and new expectations, all within a very demanding schedule. The real accomplishments of that team will never be found in the record books or statistical research. They were continually asked to "play up" and not be satisfied with their own assessment of their abilities, and wow, did they respond as the season progressed. This group had a keen desire to compete, and as they learned how to insert that edge into a team concept, they really became an excellent basketball team, one that is a strong addition to the tradition that is Raider basketball.
— Phil Conover