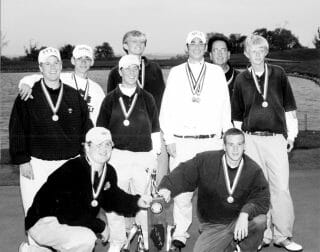 Inducted 2009. 1998 Class A State Champions.
The bulls-eye was on the 1998 boys golf team the minute after it walked off the course in Bloomington the year before as a Class A state champion. The team stood up to the challenge and didn't disappoint.
The Raiders won two tournaments during the regular season and placed second at three others. The postseason war with Havana began in the regional when QND edged the Ducks by two shots at Westview Golf Course. Havana returned the favor by edging the Raiders by one shot for second place at the sectional, which Monmouth won by three strokes.
The conditions at Prairie Vista Golf Course in Bloomington for the state tournament were brutal, with winds gusting up to 50 miles an hour at times. Raiders coach Mark Longo said at the time, "I'm glad I don't wear a toupee, because it would have blown off today." QND had set a two-day record score the year before with a 604, so the two-day total of 644 for a winning score was indicative of just how bad the weather was. Nonetheless, the Raiders held on to tie with Havana for the title, because the Illinois High School Association rules prevented ties from being broken in postseason play. It was the first time teams had tied for a state title. QND claimed a top three finish at the state tournament for the third consecutive year.
Junior Kyle Awerkamp shot a 155 to place third in the individual event. Senior Dan Citro, the defending individual state champion, failed to qualify for the state meet in sectional play but shot a 158 for his team at state.
Team members were Kyle Awerkamp, Dan Citro, Trevor Friye, Jake Scholz, John Ernst, Joe McFarland, Patrick Gillespie and John Citro. The coach was Mark Longo.
On behalf of the 1998 state champions, I would like to thank the committee for voting us into our illustrious Hall of Fame. It is truly an honor and one that we feel privileged to be a part of. It isn't very often that a team gets the opportunity to defend a state title. It was a challenge we looked forward to from the minute we left Prairie Vista the year before. The weekend was extremely windy and cold, and the kids had to battle the entire weekend. I don't think there was one defining moment. It was just a group of young men who weren't going to be denied. — Mark Longo