Inducted 1997. Only Two Teams Take Lady Raiders to Three Games During Undefeated Season.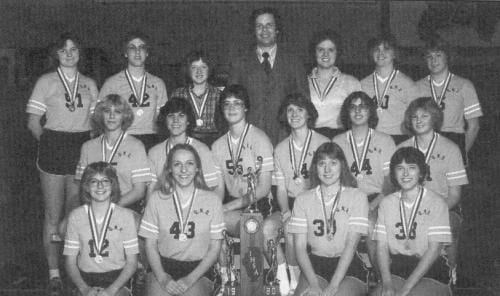 The 1980 girls volleyball team won the Class A state championship with a 34-0 record. They were one of the most dominating teams to step onto a volleyball court in IHSA history.
Only two teams took the Lady Raiders to a third game – Augusta Southeastern in the second match of the season and East St. Louis Lincoln. Of the 70 games QND played in 34 matches, only nine times did teams reach double digits points.
The Lady Raiders allowed just 13 points in clobbering West Pike, Mendon Unity, and Payson Seymour at the regional tournament; Lewistown and Augusta Southeastern put up only a little more resistance at the sectional.
Orion was thumped 15-3, 15-2 in the super-sectional match, and Staunton was wiped out by scores of 15-1, 15-0 in the first round of the state tournament. Tolono Unity was beaten 15-2, 15-11 in the semifinals, and Elmhurst Immaculate Conception was the victim of a 15-4, 15-10 decision in the title game. Caren Kemner and Barb Nutt were both named to the all-tournament team.
Connie Trine led the team with 234 points scored. Ann Stegeman and Nutt were close behind with 173 and 172, respectively.
Team members were Connie Trine, Ann Stegemen, Barb Nutt, Caren Kemner, Lori Damhorst, Nancy Damhorst, Diane Hughes, Kim Hessing, Jill Vogel, Sandra Newman, Pam Schneider, Monica Woodward, Shelly Peters, Sue Mast, Donna Druffel, Karen Wiewel and Mary McCaughey. Sandy Maas was the team statistician, and Ellen Awerkamp was the team manager. The team was coached by Bill Starkey.