Inducted 1997. Pitching, Defense Help Lady Raiders Claim Single-Class Title.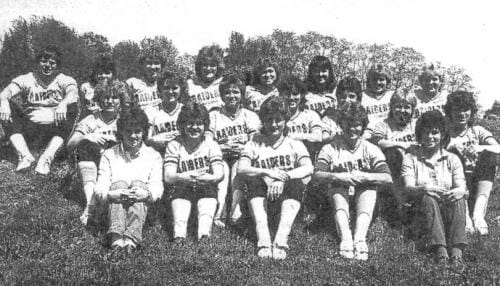 The 1984 Girls Softball Team captured the single-class state championship. They will be remembered for overpowering pitching and air-tight defense.
The Lady Raiders lost just two of 31 games on their way to the state title. QND closed the regular season with 12 consecutive victories while allowing just four runs – three in one game.
Notre Dame defeated Winchester and Payson Seymour to reach the regional championship game against Quincy High School. QHS battled for nine innings before succumbing by a 2-1 score. QND shut out Cuba and Peoria Richwoods to win the sectional, then defeated Rock Island Alleman 2-0 and Marissa 2-0 before winning the title game by a 6-1 score over Oak Lawn Richards.
Lori Vogel posted one of the most amazing seasons by a pitcher in IHSA history, allowing just two earned runs in 147 2/3 innings for a 0.09 earned run average. She tossed four no-hitters and 16 shutouts in posting a 22-0 record. She struck out 158 hitters while walking just nine. Mary McCaughey's .348 average was tops on the team. Susan Wellman, Julie Miller and Kelly Druffel tied for the team lead with 20 runs batted in. The team made just 32 errors in 31 games and posted a stellar .962 fielding percentage.
Team members were Lori Vogel, Mary McCaughey, Susan Wellman, Julie Miller, Kelly Druffel, Michelle Arnold, Kelly Ward, Kasey Davis, Trina McPherson, Ellen Venvertloh, Jane Duesterhaus, Missy Perrine, Cyndi Peter, Jill Harden, Peggy Wolf, Julie Doyle, Jill Vogel and Amy Peters. Teresa Preston was the statistician. Bill Starkey was the head coach, and Cathy Fetter was the assistant coach.