Inducted 1999. Team Ranked No. 1 Throughout Season Finally Claims State Championship.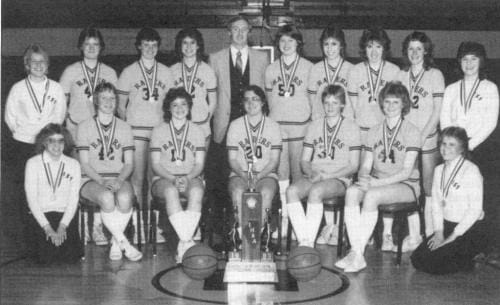 The 1982-83 girls basketball team had to overcome huge expectations and deal with past frustrations to claim the Class A state championship. The Lady Raiders were ranked No. 1 in the Champaign News-Gazette state poll throughout the season. They had finished third at the Class A state tournament in 1982 and were second in 1981.
QND started its postseason run with a 62-16 victory over Unity and a 75-40 victory over Central to win the regional title. QND then knocked off Beardstown 61-45 and Springfield Ursuline 69-49 to win the sectional, and then held off Bunker Hill 66-57 to win the super-sectional. QND became the first Class A school to reach the state tournament three years in a row.
At the state tournament, the Lady Raiders opened with a 72-49 victory over Teutopolis. Kim Hessing led the team with 22 points and Susan Wellman scored 19. In a 74-58 victory over Walther Lutheran in the semifinals, Hessing and Becky Winking scored 18 points apiece to lead four players in double figures. QND then became the first undefeated Class A state champion at 30-0 after it defeated Rushville 57-53 in the title game, as Hessing led the way with 24 points. QND's balanced attack was showcased in Champaign, with Hessing, the team's third-leading scorer during the season, picking up the slack for Lori Vogel, the team's top scorer who was hampered by an ankle injury. Hessing and Wellman were named to the all-tournament team.
The team was coached by Marvin Smith. Team members were Theresa (Venvertloh) Stoll, Julie (Laird) Cassens, Stacey (Doellman) Davis, Kim (Reagan) Neumann, Becky (Winking) Wolf, Lori (Vogel) McPike, Joyce (Venvertloh) Serangeli, Kim Hessing, Susan Wellman, Kelly (McKinney) Little, Jane (Duesterhaus) Frazier, Teri (Glanzman) White, April (Goerlich) Patrocki, Annette (Speckhart) Kurtzwell, Ellen (Venvertloh) Vonderheide and Anne (Rakers) Meyer.