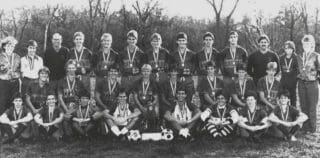 Quincy Notre Dame can boast proudly of several state championship teams in girls athletics, but just one boys team has won a state title. The 1985 boys soccer team is the only team from a private school to win the state championship since the post-season tournament was first held in 1972. Quincy Notre Dame also had the smallest enrollment (537) of a state soccer champion.
The Raiders, coached by Al Knepler, suffered through a 1-4-1 stretch during the season but finished with an 18-4-4 record. Notre Dame made its fourth appearance the state soccer tournament in five years.
Notre Dame dispatched St. Charles 2-0 and Hoffman Estates 2-1 in reaching the title game, which was played on a muddy field in Hinsdale. Collinsville scored first with just 5:12 elapsed, but Mark Thomas scored his fourth goal of the state tournament just 2:04 later. John Prow's header off a perfect feed pass from Kevin Koetters with 1:52 remaining proved to be the winning goal.
Koetter, Prow and Thomas all went on to enjoy professional soccer careers. Those three, along with goalkeeper Brian Anderson and defender Brian Vahlkamp, earned all-tournament honors. Koetters, named the team's most valuable player, lead in assists and goals, while Thomas was named the team's most valuable offensive player and Prow the most valuable defender.
Members of the team were Koetters, Prow, Thomas, Anderson, Vahlkamp, Tony Adolfs, Brian Bastean, Tom Beck, Shawn Cummings, Brian Dannehold, Craig Davis, Kevin Deters, Mike Drew, David Effrein, Chris Glanzman, Joe Johnson, Steve Koetters, Mark Kolodziej, Dan Ludwig, Chris Mackenzie, Marty Meade, Bill Siebers and Jim Sohn. Knepler was the head coach, and Gary Allen was his assistant. Steve Veile was the manager, Brad Haubrich was the trainer, and Jenny Johnson and Angie Venvertloh were the statisticians.