Inducted 2007. Class A State Champions. Set State Tournament Record for 2-Day Score.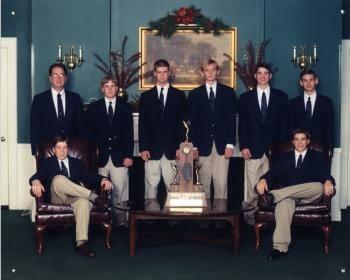 Good things were definitely expected of this team, but who could have ever imagined a team that one just one of five regular season tournaments and had only one senior on the squad could win the Class A state championship in record-setting fashion
The Raiders were 18-4 during the regular season, but the only tournament title they claimed was at Petersburg Porta. Even after winning the regional championship, QND finished in second place in sectional play at Macomb behind Havana, and only one player (Dan Citro) qualified for the state tournament as an individual. Even after the first day of play at Prairie Vista Golf Course in Bloomington, the Raiders trailed Normal University High by four strokes, despite Citro's record round of 69 on Friday.
However, two dramatic improvements helped the Raiders rally to win the title. Sophomore Kyle Awerkamp, who struggled to an 85 on Friday, rebounded to shoot a 69 on Saturday. Junior Trevor Friye knocked nine shots off his opening-round 85. Senior Charles Scholz turned in consistent scores of 79-77, and Citro's round of 73 gave him a total score of 142 and individual medalist honors. His score is still the third-best ever posted in the Class A tournament. The Raiders' two-day total of 604 smashed the 20-year-old record of 612 set by Carmi in the 1977 state tournament.
Team members as shown in the photo above are, seated from left, Patrick Gillespie and Adam Peters; standing from left, Coach Mark Longo, Jake Scholz, Charles Scholz, Dan Citro, Kyle Awerkamp and Trevor Friye. Not pictured is assistant coach Chuck Scholz.
There are two things about this team that stand out. One, they were a team, not individuals. It didn't matter who shot the best score. As long as we had four good scores, that's all that mattered. The best example would be at the state tournament. All six players had a score that counted. They were truly a team. The other point would be having two players break 70 at the state tournament. I remember walking past Dan Citro, waiting to tee off on No. 10, and telling him Kyle was 3 under with 2 holes to play. Dan just nodded and knew if he finished strong, we had a great chance at winning. But the best look was from a U-High player. It was a look I'll never forget — one of complete and total shock. He knew they were in trouble. — Mark Longo