Inducted 2007. Class A State Runners-up, Finished 28-4.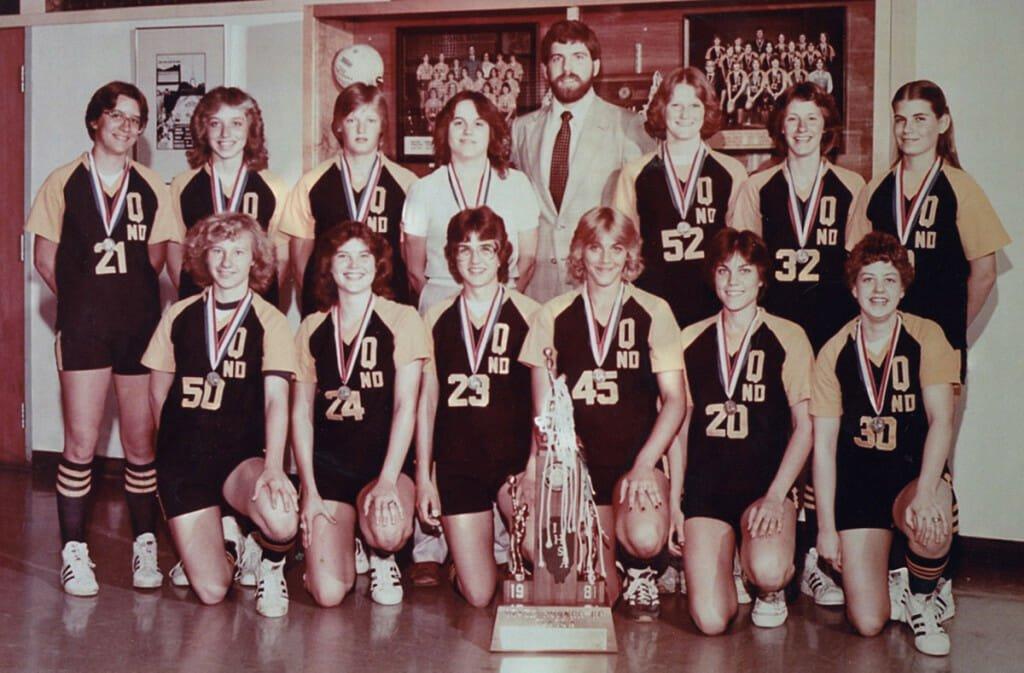 This team's path to a 28-4 record and a second-place finish in the Class A state tournament was one filled with buzzer beaters, nail-biters and unlikely heroes.
After edging upstart Camp Point Central to win the regional, QND needed Karen Kowalski's shot with 16 seconds remaining to break a 47-47 tie and go on to defeat Springfield Ursuline 50-47 in the sectional semifinals. In the sectional title game, the Lady Raiders overcame 16 missed free throws and a blown layup with six seconds remaining by a Beardstown player to escape with a 37-36 victory. QND's postseason run seemed destined to end in the supersectional when Carlinville, the undefeated host school, scored with five seconds remaining to take a 1-point lead. However, the Lady Raiders made two passes — from Barb Nutt to Donna Venvertloh, and from Venvertloh to Connie Trine — to get the ball the length of the court. Trine's 10-footer with one second to go lifted QND to an improbable 54-53 victory.
At the state tournament in Champaign's Assembly Hall, QND opened with a 49-39 victory over Forreston. Nutt and Trine combined for 30 points and 20 rebounds. Kathy Wasson scored a career-high 22 points and the Lady Raiders rolled to a 20-point halftime lead in a 65-48 semifinal victory over Rushville. However, against tall and talented Chicago Christian, QND's title hopes were ruined in a 44-36 loss. Trine was named to the all-tournament team.
Team members as shown in the photo above are, back row from left, Joyce (Venvertloh) Serangeli, Karen Wolf, Kim Hessing, Mary Kay (Obert) Schlegl, Coach Ivan Brown, Susan Wellman, Anne (Rakers) Meyer and Darlene (Venvertloh) Butler; front row from left, Karen (Kowalski) Allen, Kathy (Wasson) Ginster, Donna (Venvertloh) Goerlich, Connie (Trine) Fielding, Barb (Nutt) Wellman and Mary Haubrich. Not pictured is assistant coach Dan Travers.
The years at Quincy Notre Dame were blessed with hard working young ladies who challenged each other to develop their skills to compete with the elite teams in the state of Illinois. They were leaders and role models both on and off the court. Girls basketball was in its formative years, and the support we received from the QND family, administration, fellow faculty members, especially Dan Travers, Leigh Conover, Jim Citro, Al Knepler and Bill Starkey, helped to assure us a place in the IHSA record books. The last second shot at Carlinville, the team Mass at the hotel, the thrill of playing for the title in the Assembly Hall in Champaign, and the outpouring of cheers from the citizens of Quincy with the fire engine parade and pep rally will never be forgotten. My wife, Anne, and I always remember our time in Quincy with fondness and gratitude. — Ivan Brown