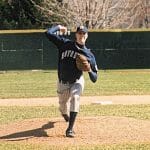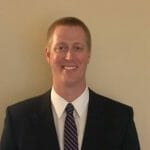 It would be difficult to find a pitcher who put up better statistics than Brian Morrell did during his junior and senior seasons in 2004 and 2005.
Morrell, a 2005 graduate of Quincy Notre Dame, emerged as the ace of the Raiders' staff in 2004 when he compiled a 10-2 record and a 0.76 earned run average. He struck out 86 batters in 64 2/3 innings. He capped that campaign by throwing 2 1/3 innings of shutout relief in the Raiders' 11-7 loss to Harrisburg in the 2004 Class A title game.
The 6-foot-8 right-hander didn't slow down as a senior, going 10-2 with a 1.15 earned run average. He fanned 146 batters, including 10 or more in seven starts, in just 73 innings, as the Raiders reached the super-sectional in 2005. He was named to the Illinois High School Baseball Coaches Association All-State first team. Morrell also was a member of the 2003-04 boys basketball team that finished third in the Class A state tournament.
Morrell went on to have a successful career at Eastern Illinois, helping the Panthers reach the NCAA Tournament in 2008. He was one of 30 candidates from across the nation for the Lowe's Senior CLASS Award, and he was a two-time selection as an Academic All-American. He became the first EIU baseball player to win the Ohio Valley Conference Scholar-Athlete Award. He also came home for two summers to pitch for the Quincy Gems.
Morrell lives in Schaumburg, Ill., and is a clinic manager at Athletic in Addison, Ill. He and his wife, Samantha, have two daughters.
"Thank you to the Hall of Fame Committee for this honor. It is surreal to be included with this class as well as inductees from other years. As a pitcher, it is impossible to succeed without a vast amount of help. Fortunately for me, I got to play on teams with amazing catchers, great defense and more hitting than I could have dreamed of. It was a privilege to play for coaches John Wyss, Scott Douglas and Jim Douglas who taught us valuable lessons about baseball and life. Most important, I want to thank my family. I was blessed with an incredibly supportive mom, a sister who never complained about traveling all over the state for games, and a dad who was my first coach and catcher. This is as much their accomplishment as it is mine. Lessons learned as a Quincy Notre Dame student athlete have guided me to become the person I am today. I have been blessed with an incredible wife and two beautiful daughters. I will always be proud to be a Raider." – Brian Morrell at 2021 Induction