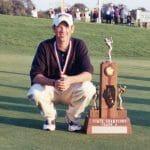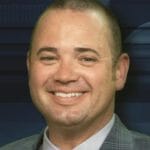 Kyle Awerkamp doesn't have any individual state championships on his resume, but few golfers in Illinois history can say they finished in the top 20 of the Class A state tournament in each of their four years in high school.
Awerkamp, a 2000 graduate, was a member of two state championship teams, a third-place team and a fourth-place team.
As a sophomore, Awerkamp's round of 69 on the second day of the 1997 state tournament at Prairie Vista Golf Course in Bloomington was 16 strokes better than his first-day score, allowing him to finish 11th individually and helped the Raiders claim the title. As a junior, Awerkamp shot a 155 at wind-swept Prairie Vista to finish third individually as the Raiders defended their state championship.
He shot a 160 to finish tied for 14th as a senior in the 1999 tournament, helping the Raiders finish fourth. He shot a 164 as a freshman to tie for 20th place in the 1996 tournament, helping the Raiders finish third.
Awerkamp went on to play at Eastern Illinois University. He lives in Quincy and is the general sales manager at WGEM. He and his wife, Kelly (Brennan), have three children.
"I would like to thank the Quincy Notre Dame Hall of Fame Committee for consideration and induction. It is important to say congratulations to all of the inductees in '21, as well as those who came before us. It is truly an honor. Golf is not a game of perfect. In fact, it is a game of mistakes made that accumulate into a score, either good or bad. The game of golf taught me a lot of skills that I apply to life daily. I can look no further than to thank those individuals who granted me the opportunity to learn this game.
To my parents, Ted and Tena Awerkamp: Thank you for the time, energy and financial commitments in my formative years that awarded me opportunities to be successful both on and off the course. To Coach Longo: Thank you for your time, dedication to me both individually and the team, and your insights and strategy to a complicated game were extremely helpful in me being successful in playing golf at Quincy Notre Dame. "Get your par and get out!" To QND administrators, coaches, alumni, boards and all of those who helped pave the way: High school athletics are extremely important in the development of youth. I thank you in your continued efforts to bring opportunities for the students. This is truly an honor. Thank you all." – Kyle Awerkamp at 2021 Induction