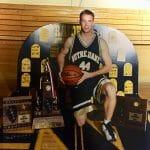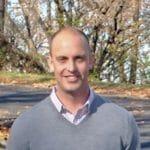 Hundreds of basketball players have worn the blue and gold, but only five of them have scored more than 1,300 career points. Tushaus is one of them.
Tushaus, a 2000 graduate of Quincy Notre Dame, played three years of varsity basketball for the Raiders. He scored 465 points as a junior, averaging 13.7 points per game, on a team that finished 28-6 and placed third in the 1999 Class A State Tournament. He led the team with 61 3-pointers and was the second-leading rebounder on the team. He had 26 points in QND's 55-51 victory over Pittsfield in the Macomb Super-Sectional to lead the Raiders back to the State Tournament for the first time in 25 years.
He returned as a senior to score 610 points, one of the top ten single-season totals in school history. Tushaus averaged 21 points per game and led the Raiders in scoring in 26 out of 29 games. QND finished 18-11 that season and won a regional championship.
Tushaus went on to play for two seasons on the basketball team at Illinois Wesleyan University. He now lives in Clarendon Hills with his wife, Ann, and his daughters, Mae and Claire. He is a certified public accountant for Brookfield Asset Management, an investment firm.
"I would like to say thank you to the Hall of Fame Committee for my consideration and induction, as well as congratulations to the other inductees being honored this year. It's a great honor to be recognized alongside them and previous Hall of Fame inductees. Being a student-athlete at Quincy Notre Dame was a great experience that did a lot to shape who I am today. We had a lot of team success during my time there, and any individual awards such as this couldn't have been accomplished without a tremendous group of teammates and coaches. Memories made playing for Coach Douglas and Coach Sheffield (and developing under Coach Bernbrock) and playing alongside my teammates in the Pit will be something I'll always remember.
Most important, I owe a huge thank you to my parents, Jeff & Tarie, and my sisters for always being there. I couldn't have asked for more supportive parents growing up. Their commitment of time, support and encouragement played a huge part in making my time at Quincy Notre Dame a success. The love and guidance they provided for me is something I'll strive to provide to my own children as they grow. Lastly, thanks to all in the Quincy Notre Dame community, and good luck to this year's teams. Go Raiders!" – Casey Tushaus '00