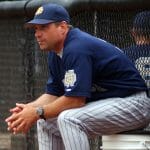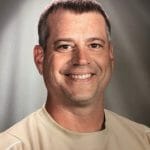 The Quincy Notre Dame baseball program has won two state trophies in its history. One came in 1952, and the other came in 2004 under the direction of John Wyss.
A native of Mesa, Ariz., Wyss is a graduate of Culver-Stockton College, where he played baseball. He served as an assistant baseball coach at Culver-Stockton College, Quincy High School and Quincy Notre Dame before becoming QND's head coach in August 1998.
Wyss guided the Raiders for eight seasons and led them to 212 victories, six regional titles, two sectional crowns and a second-place finish at the 2004 Class A State Tournament. The Raiders set a school record for victories in 2004 while going 35-6, losing to Harrisburg in the state championship game. The Raiders outscored their opponents 385-117 that season, and they won by the 10-run rule 17 times.
QND won at least 22 games in each of Wyss' eight seasons and topped 30 victories twice. The Raiders also went 11-8 against crosstown rival Quincy High School, sweeping three games in 1999. He resigned as the baseball coach after the 2006 season.
Wyss also was an assistant football coach at QND for 24 years, coaching the wide receivers and defensive backs. After teaching history and physical education at QND and other Quincy parochial elementary schools for 26 years, Wyss has retired as a teacher. He still lives in Quincy and works for Voss Landscaping. He has two daughters, Kyleigh and Caitlyn.
"Thank you to the Hall of Fame committee for selecting me among so many great individuals and teams here at Quincy Notre Dame. Thank you to all the student-athletes who put their time and effort into making our teams successful year after year. Thank you to the QND community, who gave up time and resources to improve our game fields and sport facilities. Thank you to all the incredible coaches for your dedication, sacrifice and effort to teach the game. Special thanks to Ray Heilmann, Bill Connell and Eric Orne for their support. Also, thanks to Scott and Jim Douglas for their baseball knowledge during practices and games. I wouldn't be here without all the incredible support I received throughout the years." – John Wyss