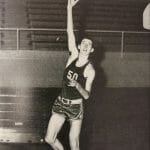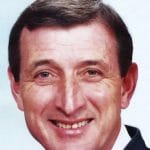 Gibson was a great basketball player during his high school and college days and is also remembered for his service for our country.
Gibson, a 1962 graduate of Christian Brothers, played wide receiver on the football team, and he played basketball for four seasons and finished with 597 career points to rank among the top 50 in school history. His highest scoring season was in 1961-62 when he had 368 points for the Raiders, who finished with a 14-10 record. He earned special mention on the Chicago Daily News all-state team as a senior and honorable mention on the Chicago Daily News team as a junior.
"He is the fastest big man I have seen all year," wrote Raiders coach Elmo McClain. "He has all the moves of a good offensive ball player and the quick hands necessary for defense."
Gibson went on to play at Christian Brothers College in Memphis, Tenn., where he averaged 5 points and 4.6 rebounds as a sophomore, 3.3 points and 3.9 rebounds as a junior and 6.6 points and 6.1 rebounds as a senior. After graduating with a degree in mechanical engineering, Gibson served in the United States Air Force for 26 years, reaching the rank of colonel.
Gibson and his wife, Brenda, were married for 15 years and lived in Kettering, Ohio. He died in 2012. He had one son, Michael, in a previous marriage, and he had two granddaughters.
"On behalf of Gene, I would like to sincerely thank the Athletic Hall of Fame Selection Committee for this wonderful honor. Given the accomplishments of previous inductees, I suspect Gene would be thrilled to see his name included among so many outstanding athletes in this Hall of Fame. Gene appreciated his high school years — the faculty, the deep friendships and the cherished memories. Although Quincy would never be Gene's home again after high school, part of his hometown and alma mater were always with him. Christian Brothers High School — along with a loving family — laid the foundation for the man he became. Gene enjoyed many achievements in his life, and, I suspect, the Athletic Hall of Fame would rank among the top." – Brenda Gibson