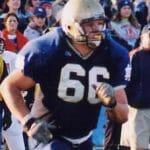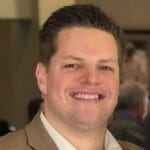 Frericks began his high school career as a soccer player. He finished it as one of the most dominant football players the school has known.
In three varsity seasons, the 6-foot-2, 255-pound Frericks, a 2005 graduate of Quincy Notre Dame, went from an unpolished sophomore to one of the best defensive linemen ever produced in West-Central Illinois. He led the Raiders to the Class 4A state semifinals as a senior and set the school's single-season record for sacks, earning The Herald-Whig's Player of the Year award in 2004.
As a sophomore, he had 44 tackles and six sacks. He had 79 tackles as a junior, and as a senior, he led QND with 88 tackles and a school-record 11 sacks. He signed with Bowling Green State University to become the first QND player to sign with an NCAA Division I or I-AA school since Brent Fischer in 1985.
Frericks transferred after his freshman season from Bowling Green to Eastern Illinois University. He had 30 tackles as a sophomore, 16 as a junior and 44 as a senior. He earned first-team All-Ohio Valley Conference honors as a senior and finished with 15.5 tackles for losses. He set a single-game school record for tackles for loss with seven against Tennessee State.
Frericks now lives in Orland Park, Ill., with his wife, Leah, and their three children, Jameson, Stella and Callen. He is a financial consultant for Ernst and Young.
"Induction to the QND Hall of Fame is an honor I could have never earned without support of my family, friends, teammates and coaches. I consider myself blessed with the best family — a brother, Kyle, who has always challenged me, and parents, Ken and Cindy, who gave me a wide range of opportunities, focusing their lives on what was best for their sons.
I was successful on the field because of the high-caliber players around me, making up one of the best football teams in QND history. Many of my teammates and classmates continued to support and motivate me through my college career. Several of these lifelong friendships continue today.
Among the many coaches providing guidance throughout the years, I must thank, in particular, Coach Connell, who finally convinced me to play football for the first time as a high school sophomore. He always pushed me to be my best. Along with all those fortunate enough to play for Coach Connell, I am grateful for his commitment to making us all not just better football players but better men.
My years at QND, and my football success, set me on course to build the life I have today. I have a challenging and rewarding career, but more important, an amazing wife and the joy brought to me by three incredible children. Raider Pride Forever!" – Trevor Frericks '05