Principal Mark McDowell is pleased to announce that 21 students from the Quincy Notre Dame graduating class of 2019 have been recognized as Illinois State Scholars.
The Illinois Student Assistance Commission (ISAC), recognized more than 21,000 outstanding honorees from across the state as this year's State Scholars.
Illinois State Scholars represent approximately the top ten percent of high school seniors from 757 high schools across the state. Illinois State Scholars are chosen based on a combination of exemplary ACT or SAT test scores and sixth semester class rank.
Originally formed as the Illinois State Scholarship Commission in 1957, the Illinois Student Assistance Commission provides students of all ages and backgrounds with resources and support to help obtain financial aid for higher education.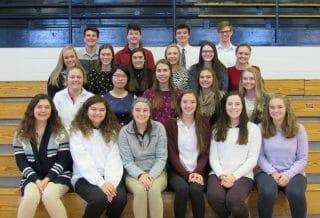 Bottom Row (L to R) – Clare Schmitz, Katie O'Quinn, Lexa Borrowman, Lindsey Ayo, Hallie Barteau, Kegan Wall
2nd Row (L to R) – Allison Steinkamp, Vivian Lin, Delaney Walker, Gracie Schreacke, Katelyn Nelson
3rd Row (L to R) – Alison Tracy, Madelynn Hilgenbrink, Lauren Roberts, Ashley Dreyer, Charlotte Horman, Lindsay
Top Row (L to R) – Carson Hayes, Thomas Gunsten, William Bickhaus, Jack Schieferdecker