Inducted 1995. Placed Fourth in the 1957 Single-Class State Basketball Tournament.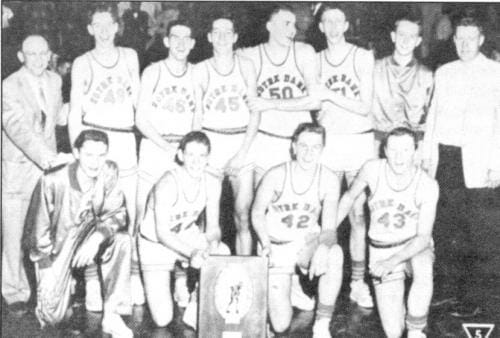 This team finished with a 30-4 record and was the only one in school history to claim a trophy in the single-class state basketball tournament.
The Raiders opened the season with 13 consecutive victories and the championship of the Winchester Tournament. A loss to Hardin in the Macomb-Western Holiday Tournament ended their unbeaten run, but the Raiders rebounded to win 11 more games in a row before Rock Island Alleman knocked them off late in the season.
Notre Dame won the regional title, beating Quincy 69-60 in the championship game. The Raiders then defeated Beardstown and Jacksonville in the sectional, knocked off Springfield in the first round of the state tournament at Huff Gym in Champaign, then beat Evanston in the quarterfinals. Herrin ended Notre Dame's dream of a state championship with a 68-47 victory in the semifinals, and Ottawa beat the Raiders 65-64 in the third-place game.
Team members included Roger Trimpe, John Flynn, Bill Burmeier, Steve Broemmel, Bill Kurz, Paul Bower, Dick Bickhaus, Phil Aalbers, Greg Bernbrock and Tom Vonderhaar. Roger Frankenhoff was the manager, and the coaches were Gene Runde and Tom O'Driscoll.